Luxury Tiger Safari India Tours
Dive into an epicurean escapade and witness stunning Indian Wildlife
Dive into the laps of mother nature with our bespoke luxury wildlife safari experiences in India, guided by the best in-house naturalists & trained wildlife experts. Indulge in an enriching luxury experiences in the heart of Indian Wildlife, along with a multi-cultural facet of the real India. From the colors of valor painted across our historic monuments to the black and gold stripes of the "Royal Bengal Beauty", our luxury tiger safari tours promise to deliver an opulent experience for wildlife enthusiasts and history aficionados. Travel in style, comfort and like the royal, with our bespoke tiger safari India luxury journeys!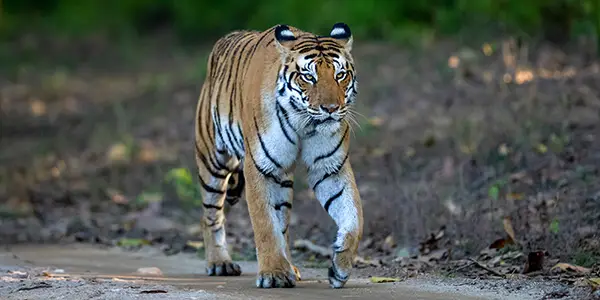 Destinations Covered: New Delhi – Khajuraho – Panna National Park – Bandhavgarh National Park – Kanha National Park – Pench National Park – Nagpur – New Delhi – Fly Onward
Luxury Wildlife Safari in Central India takes you through the most rewarding national parks in the country. Kanha, Bandhavarh, Pench and Panna. The region is gifted…
Destinations Covered: New Delhi – Agra – Ranthambore National Park – Jaipur – Jodhpur – Udaipur – New Delhi – Fly to an onward destination
Emancipate your senses as you journey across the breathtaking state of Western India on this Luxury Wildlife Safari in Rajasthan. The landscape here embodies a medley…
Experiencial Stays in Luxury Lodges
India is known for its impeccable warm hospitality. Gilded with the charms of deep rooted culture and aesthetic, complete your luxury wildlife safari experience in India with some of the most extravagant yet classic luxury resorts in the country. From Banjaar Tola in Kanha National Park, to the Oberoi Group of Hotels in Rajasthan, you will be treated like royalty throughout your Luxury Wildlife Safari in India. Take a look at some of the best luxury resorts offered on these tours below
Luxury Wildlife Safari in Central India – Revel in chic and glamorously designed tented suites at Banjaar Tola at Kanha National Park. Each of the jungle lodge's stilted tents features spectacular glass doors that lead out to a floating verandah with a stunning view of the Banjaar river and the core zone of Kanha National Park.
Luxury Wildlife Safari in Central India – Each bungalow at the resort comes with its own rooftop machan, indoor and outdoor shower areas and a private sit-out surrounded by the woods. A colonial theme is nuanced in the guest areas with a vintage radio, crystal candelabras on the dining table and metal chandeliers.
Ranthambore National Park
Luxury Wildlife Safari in Rajasthan – The Oberoi Vanyavilas offers luxury tented accommodation inspired by the opulent caravans of the royal families. A fine restaurant serving authentic Rajasthani and international cuisine. And spa experiences customized to suit your needs. 
Luxury Wildlife Safari in Central India – Discover the allure of luxury stone cottages that are spread over 200 acres of private wilderness. The 12 rough hewn cottages at Taj Pashan Garh, Panna imbue stunning stone architecture with Khajuraho inspired romance with ebony, chocolate highlights and a private gazebo.
Luxury Wildlife Safari in Rajasthan – Luxury tents inspired by the era of Maharajas, fine restaurants serving authentic Rajasthani and international cuisines, specially curated romantic experiences for couples and our sincere hospitality. The perfect setting for the holiday of a lifetime at the best 5 star luxury hotel in Jaipur.
Luxury Wildlife Safari in Rajasthan – In a city fabled for its palaces, The Oberoi Udaivilas, can take its place with pride. With views over Lake Pichola to the spectacular City Palace in the blue city, the hotel itself resembles a grand palace. Landscaped gardens, shady courtyards and decorative fountains create a marvelous ambience.
Enquire a luxury tiger safari India Tour
Our efforts have time and again been recognized by all our guests on TripAdvisor. With reviews that are 100% genuine, you can read them here or head on to our official TripAdvisor page to browse through in detail.
"Amazing safari due to a well organized company"
Ishana was really organized and helpful. We had to postpone our trip due to health reasons and she made sure we could still rebook our trip in the zones we wanted with the same hotel. She ...
"Amaizing experience!!"
We have make a trip to Corbett, Nainital, Chambal, Bharatphur, Rantambhore and Bandavargh with Nature Safari India and everything was perfect. They have arrange all the entrance, hotel, drivers, guides and means of transports, so we ...
"Professional Service Seamless Delivery"
At the risk of repeating other contributors my wife and I have been extremely impressed with the whole process - from initial contact, immediate response by phone and subsequent email, to the proposed itinerary ...