Satpura is an incognito National Park and along with Panchmarhi, Bori and Madhai is a highly disparate biosphere. Located in Central India, this park is not a usual destination in the itinerary of most guests, hence it is best protected, and least disturbed. There are varied ways to explore Satpura's flora and fauna – the usual jeep safaris, boat safaris, and interesting walking safaris. Tigers call Satpura a home for sure, but their sightings are bleak. However, you have almost assured a Leopard and a Sloth Bear sighting in Satpura. With an extremely contrasting landscape, Satpura imbibes everything; from hills to gorges and the ravines and plains of Churna.
Satpura National park is a very important part of The Highlands of Central India. Captain James Forsyth spent considerable time in the area in the mid-19th century. One can camp along the river, an experience which lasts for 2 nights, 3 days.
Plan your tailor-made trip with our local expert
Travel stress-free with local assistance and 24/7 support
About Satpura national Park
The Denwa river flowing through the park is a haven for migratory birds in winters. Boat safaris in the Denwa are best done until March since afterward the water level of the river starts to recede. The Tigers in Satpura are a bit cautious of the jeep vehicles as tourism began very recently (2008). However, as of the year 2018, they have gotten far more comfortable and their numbers have increased as well.
Should you want to stay inside the national park, you can spend a night in Churna Camp and get a feel of staying in the heart of the forest. So, if you have accomplished doing regular morning and evening safaris, Satpura National Park offers a lot of activities. It encapsulates the complete wilderness experience. The highest point of the Highlands is just about a 2-hour drive from the national park, called Panchmarhi.
Altitude: 1350m above sea level span
Vegetation: Mixed Deciduous Forest Ecosystem
Water Resources: Denawa, Nagdwari, Sonbhadra, Malini, Koti, Bainganga
Core Area: 1339.27 sq. km
Buffer Area: 794.37 sq. km
Coordinates: 22.5705° N to 78.1438° E
Rainfall: 1388mm
Temperature: 15 – 40 degree Celsius
Satpura National Park Tiger Safari Tours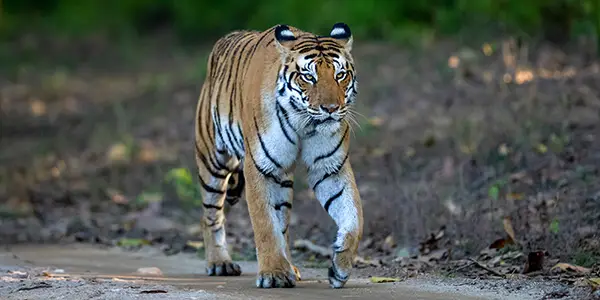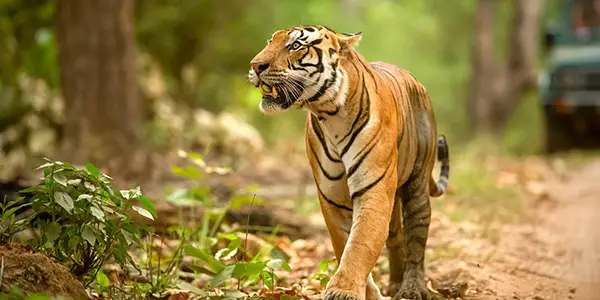 Tiger Safari and Culture Tours
Popular Fauna at Satpura National Park
These four-pound tree dwellers, native to India, have an unusual method for storing their food. Instead of storing nuts and seeds in larders underground, Indian giant squirrels create caches of food high up in the treetops.
Shaggy, dusty, and unkempt, the reclusive sloth bear makes its home in the forests of South Asia. Emitting noisy grunts and snorts, it wanders alone, usually at night, in search of insects and fresh fruit.
It has larger rosettes than the other subspecies, with a paler coat in desert habitats, greyer in colder climes and more ochre in rainforest habitats. They remain well-camouflaged at night but come down from trees to hunt during the day.
Safaris at Satpura National Park
Satpura National Park conducts jeep safaris. A half day jeep safaris can be further categorized as a morning safari and an evening safari. The morning safaris start around 0600 hours depending on the sunrise time and lasts for about 3-3.5 hours. After the morning safari, the guest heads back to the lodge/resort. You can freshen up, eat a quick lunch, relax for a bit and later head back in to the jungle for your evening safari. The evening safari lasts for about 3 – 3.5 hours depending on the time of sunset. Post your evening safari, you head back to the lodge for dinner and take the rest of the evening at leisure.
Satpura National Park also offers walking safaris on guided tiger trails within the buffer zone of the park. Here, the guest is accompanied by a naturalist and a forest guard. On the trail, you are acquainted with the best of flora and fauna by expert naturalists and guides the park has to offer. These trails are fruitful for people who wish to take a break from regular jeep safaris and explore the park vegetation at close quarters.
Boat or Canoe safaris on the Denwa river are also possible – there are quite a few migratory waders, plovers, raptors and storks which are seen.
Our efforts have time and again been recognized by all our guests on TripAdvisor. With reviews that are 100% genuine, you can read them here or head on to our official TripAdvisor page to browse through in detail.
Tiger Safari with Sanjay Gupta and Nature Safari India.
We just finished the first half of two tiger safari tours in India. The first was on the Banhavgar National Park. Our guide was Sanjay Gupta, who had 25 years of experience in the park and with the tigers. He was wonderful, sharing his experience and knowledge throughout our three full days together. He was definitely a highlight of our trip, as a great guide makes for a great experience, whether you see tigers or not! And we did see tigers...
Excellent Experience with Nature Safari India.
Nature Safari India organized our private 2 Weeks Safari in Central India plus a couple of Sightseeing and we are very happy to having choose this agency. I found them on the responsible tiger tourism association (TOFTigers) and I liked them from the very first contact. From the first email more than two years ago to the end of our trip in April 2022, the service was great, the selection of the itinerary, Parks, lodges and guides was perfect...
Excellent Experience with Nature Safari India.
Deepkul and the Tiger Safari India team put together an incredible experience for us in Kanha and Bandhavgarh. All the details were taken care of as per our preferences and budget including transportation, food, lodging, and our amazing safari guides. Deepkul was easy to communicate with and always quick to respond to any questions before and during our trip. Highly recommend!