One can easily call Panna National Park the land of the biggest predators and waterfalls thumping the ground from dizzying heights. A diamond mine to India, this park has the amazing superpower to both thrill you and calm you. A boat ride on the Ken is all it takes to discover that the forest is indeed a gem hidden, harboring diversity in its belly, and protecting its land since the recent past of 2008. After years of poaching, Panna stands on the virgin grounds of a broadleaf dry deciduous forest.
Panna National Park created history in Tiger conservation. This park lost all Tigers to systematic poaching from the year 2006 to 2008. Subsequently, 3 Tigers were relocated from other reserves into Panna in 2009. These Tigers made Panna their home, and today with the dedicated efforts of Mr. Murthy the then Field Director the Tiger population has reached 55 Tigers (cubs included). This park is now home to Tigers, Leopards, Sloth Bears, Crocodiles, Gharials, over 300 species of birds, Deer, and monkeys.
Plan your tailor-made trip with our local expert
Travel stress-free with local assistance and 24/7 support
About Panna National Park
Apart from Jeep safaris, boat safaris are a good option to observe the Crocodiles and riverine birds in the Ken.
Due to its closeness to one of the best-known Indian tourist attractions in India, Khajuraho, Panna National Park is slowly becoming a major tourist attraction. For those interested in history, the Fort of Kalinjar is a little over an hour's drive. Easily a national park where you can stay for longer than the usual duration of 3-4 nights, one can not only enjoy the wildlife here but the dated, deep, and historic accounts of Panna's past.
Altitude: 211m – 540m above sea level span
Vegetation: Tropical and subtropical dry broadleaf forests belt
Water Resources: Water Resources Ken and Betwa
Core Area: 576 sq. km
Buffer Area: 1022 sq. km
Coordinates: 24.5905° N to 79.9417° E
Rainfall: 1100mm
Temperature: 15 – 40 degree Celsius
Panna National Park Tiger Safari Tours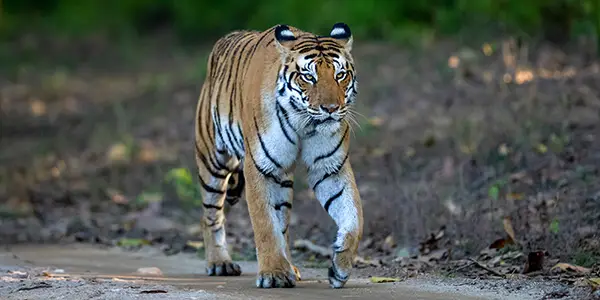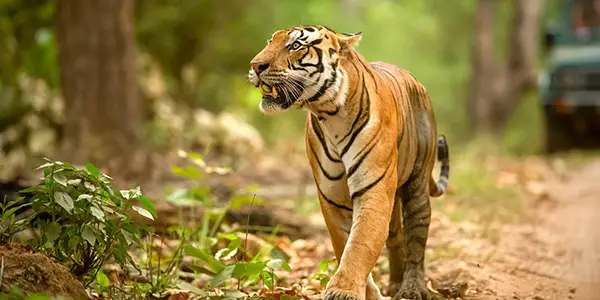 Tiger Safari and Culture Tours
Popular Fauna at Panna National Park
His majesty, the national animal of India. The Royal Bengal Tiger is considered by many naturalists as one of the most powerful apex predators. You catch a glimpse of this big cat in action at the Panna National Park.
It has larger rosettes than the other subspecies, with a paler coat in desert habitats, greyer in colder climes and more ochre in rainforest habitats. They remain well-camouflaged at night but come down from trees to hunt during the day.
Indian gazelles, Gazella bennettii, are primarily found in the northwestern region of India in the state of Rajasthan. Their distribution extends from south of the Krishia River, as far east as central India, and into the north-central region of Iran.
Safaris at Panna National Park
Panna National Park conducts a half day safari. A half day jeep safaris can be categorized as a morning safari and an evening safari. The morning safaris start around 0600 hours depending on the sunrise time and lasts for about 4.5-5 hours. After the morning safari, the guest heads back to the lodge/resort. You can freshen up, eat a quick lunch, relax for a bit and later head back in to the jungle for your evening safari. The evening safari lasts for about 3 – 3.5 hours depending on the time of sunset. Post your evening safari, you head back to the lodge for dinner and take the rest of the evening at leisure.
Panna National Park also offers walking safaris on guided tiger trails within the buffer zone of the park. Here, the guest is accompanied by a naturalist and a forest guard. On the trail, you are acquainted with the best of flora and fauna by expert naturalists and guides the park has to offer. These trails are fruitful for people who wish to take a break from regular jeep safaris and explore the park vegetation at close quarters.
Boat or Canoe safaris on the Ken river are also possible – there are quite a few migratory waders, plovers, raptors and storks which are seen.
Our efforts have time and again been recognized by all our guests on TripAdvisor. With reviews that are 100% genuine, you can read them here or head on to our official TripAdvisor page to browse through in detail.
Tiger Safari with Sanjay Gupta and Nature Safari India.
We just finished the first half of two tiger safari tours in India. The first was on the Banhavgar National Park. Our guide was Sanjay Gupta, who had 25 years of experience in the park and with the tigers. He was wonderful, sharing his experience and knowledge throughout our three full days together. He was definitely a highlight of our trip, as a great guide makes for a great experience, whether you see tigers or not! And we did see tigers...
Excellent Experience with Nature Safari India.
Nature Safari India organized our private 2 Weeks Safari in Central India plus a couple of Sightseeing and we are very happy to having choose this agency. I found them on the responsible tiger tourism association (TOFTigers) and I liked them from the very first contact. From the first email more than two years ago to the end of our trip in April 2022, the service was great, the selection of the itinerary, Parks, lodges and guides was perfect...
Excellent Experience with Nature Safari India.
Deepkul and the Tiger Safari India team put together an incredible experience for us in Kanha and Bandhavgarh. All the details were taken care of as per our preferences and budget including transportation, food, lodging, and our amazing safari guides. Deepkul was easy to communicate with and always quick to respond to any questions before and during our trip. Highly recommend!