Pench National Park, a teak forest, located in the states of Madhya Pradesh and Maharashtra, is named after the river Pench which divides the park into two. This park shot into prominence with an increase in wildlife tourism in the year 2002. However, it was even before tourism began, that the park was discovered by Rudyard Kipling and penned as a memoir forever with his famous "Jungle Book". Still, home to the ferocious Sher Khan and cuddly Baloo, Pench resonates with the whispers of our favorite bedtime story.
Primarily a teak forest, this park is an amalgamation of four different hill ranges. Pench National park also forms a healthy corridor with Kanha National Park. In fact, there have been records of Tigers moving from Kanha to Pench, which is about 200kms. It is also home to another big cat, the elusive Leopard. Sloth Bears, Indian Gaur, Wild Dogs, Sambars, Langurs, and over 300 species of birds also call Pench their home.
Plan your tailor-made trip with our local expert
Travel stress-free with local assistance and 24/7 support
About Pench national Park
A total of 758 sq. km of this Southern Indian tropical moist deciduous forest has its extent mingling with the tropical dry deciduous teak. The area is crisscrossed by a number of streams and 'nallahs' most of which are seasonal. Though the Pench River dries up toward the end of April, a number of water pools locally known as 'dohs' are found here, which serve as water holes for the wild animals. The Pench Reservoir at the center of the park is the only major water source during the pinch period.
As the prey concentration is high along the Pench River, Tigers usually inhabit and frequents this belt. Leopards, though generally operating in the peripheral areas of the jungle, are occasionally seen in the deep forest also.
Altitude: 425m to 620 m above sea level span
Vegetation: 425m to 620 m
Water Resources: Water Resources The Pench River is life line of Pench national park and a tributary river of the Kanhan River
Core Area: 411 sq. km
Buffer Area: 768 sq. km
Coordinates: 21.7630° N to 79.3391° E
Rainfall: 1300mm
Temperature: 20 – 38 degree Celsius
Pench National Park Tiger Safari Tours
In Pench National Park, a healthy population of the Cheetal, Sambar, and Nilgai are commonly seen grazing the open sites on roadsides and banks of the river & reservoir. Packs of up to 15 wild dogs can be seen near the Chhedia, Jamtara, Bodanala, and Pyorthadi areas of the Reserve. Herds of Gaur can be spotted near streams and bamboo patches commonly in the summer months. Sloth beer occupies hilly, rocky outcrops and favors Mahul bel infested forest. The Chinkara is present in very small numbers and is found in open areas around Turia, Telia, and Dudhgaon villages.
Langoors are very common in Pench, whereas the Rhesus monkeys may be seen occasionally on the fringes. Pench boasts of more than 210 species of birds that include several migratory ones also. Commonly seen are Peafowl, Red jungle fowl, Crow pheasant, Crimson breasted barbet, Red-vented Bulbul, Racket-tailed drongo, Magpie robin, and lesser whistling teal.
Popular Fauna at Pench National Park
His majesty, the national animal of India. The Royal Bengal Tiger is considered by many naturalists as one of the most powerful apex predators. You catch a glimpse of this big cat in action at the Pench National Park.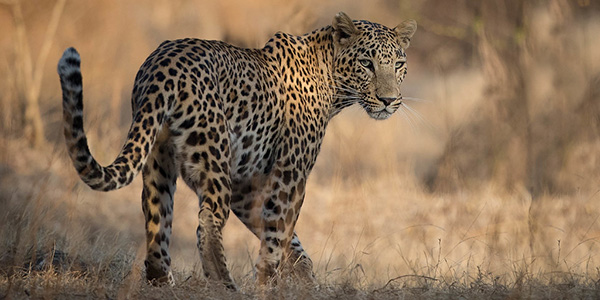 It has larger rosettes than the other subspecies, with a paler coat in desert habitats, greyer in colder climes and more ochre in rainforest habitats. They remain well-camouflaged at night but come down from trees to hunt during the day.
Shaggy, dusty, and unkempt, the reclusive sloth bear makes its home in the forests of South Asia. Emitting noisy grunts and snorts, it wanders alone, usually at night, in search of insects and fresh fruit.
Safaris at Pench National Park
Pench National Park conducts two types of jeep safaris. A full day safari and a half day safari.
Half Day Jeep Safari: A half day jeep safaris can be further categorized as a morning safari and an evening safari. The morning safaris start around 0600 hours depending on the sunrise time and lasts for about 4.5-5 hours. After the morning safari, the guest heads back to the lodge/resort. You can freshen up, eat a quick lunch, relax for a bit and later head back in to the jungle for your evening safari. The evening safari lasts for about 3 – 3.5 hours depending on the time of sunset. Post your evening safari, you head back to the lodge for dinner and take the rest of the evening at leisure.
Full Day Jeep Safari: A full day safari is a jeep safari wherein your vehicle/jeep enters the park 15-20 minutes prior to all other safari vehicles. You spend the day within the national park, including eating lunch amidst the forest wilderness. You head back out 15 minutes after all the jeeps have exited the park post the evening safari. This type of safari proves more fruitful during pleasant months like October – November or even the fag end of February – March. A full day safari is also mostly taken by professional photographers who are following a particular species or documentarians who wish to film a specific family within the national park.
Our efforts have time and again been recognized by all our guests on TripAdvisor. With reviews that are 100% genuine, you can read them here or head on to our official TripAdvisor page to browse through in detail.
Tiger Safari with Sanjay Gupta and Nature Safari India.
We just finished the first half of two tiger safari tours in India. The first was on the Banhavgar National Park. Our guide was Sanjay Gupta, who had 25 years of experience in the park and with the tigers. He was wonderful, sharing his experience and knowledge throughout our three full days together. He was definitely a highlight of our trip, as a great guide makes for a great experience, whether you see tigers or not! And we did see tigers...
Excellent Experience with Nature Safari India.
Nature Safari India organized our private 2 Weeks Safari in Central India plus a couple of Sightseeing and we are very happy to having choose this agency. I found them on the responsible tiger tourism association (TOFTigers) and I liked them from the very first contact. From the first email more than two years ago to the end of our trip in April 2022, the service was great, the selection of the itinerary, Parks, lodges and guides was perfect...
Excellent Experience with Nature Safari India.
Deepkul and the Tiger Safari India team put together an incredible experience for us in Kanha and Bandhavgarh. All the details were taken care of as per our preferences and budget including transportation, food, lodging, and our amazing safari guides. Deepkul was easy to communicate with and always quick to respond to any questions before and during our trip. Highly recommend!