Ranthambore National Park
The Indian state of Rajasthan is known all over the world for its rich cultural heritage. Its history, customs, royalty, fairs, and festivals are all so classic, rich, and colorful. The same richness and antiquity can be seen and felt in another of its natural heritages- Ranthambore National Park.
Ranthambore Tiger Reserve in the Indian state of Rajasthan comprises distinct areas with varied conservation history and virtually separated geographically, with mere narrow corridors linking them to the core, Ranthambore National Park. These are mainly, the Ranthambore National Park, Keladevi Sanctuary, and Sawai Mansingh Sanctuary.
Plan your tailor-made trip with our local expert
Travel stress-free with local assistance and 24/7 support
About Ranthambore national Park
The Ranthambore National Park, at the junction of the Aravallis and the Vindhyas, is a unique juxtaposition of natural and historical richness, standing out conspicuously in a vast arid and denuded tract of eastern Rajasthan, barely 14 km. from the town of Sawai Madhopur. It is spread over a highly undulating topography, varying from gentle to steep slopes, from flat-topped hills (Indala, Doodh-Bhat, and Chiroli) of the Vindhyas to the conical hillocks and sharp ridges of the Aravallis, from wide and flat valleys (Lahpur, Nalghati, Khachida, Anantpur, etc.) to narrow rocky gorges. An important geological feature, the "Great Boundary fault" where the Vindhyas was brought against the ancient Aravallis, passes from here.
Altitude: 215m – 505m above sea level span
Vegetation: Tropical Dry Deciduous
Water Resources: It is bounded to the north by the Banas River and to the south by the Chambal River
Core Area: 274 sq. km
Buffer Area: 118 sq. km
Coordinates: 26.0173° N to 76.5026° E
Rainfall: 800 mm
Temperature: 15 – 30 degree Celsius
Ranthambore National Park Tiger Safari Tours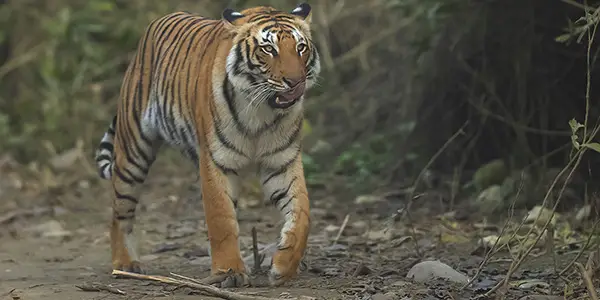 Tiger Safari and Culture Tours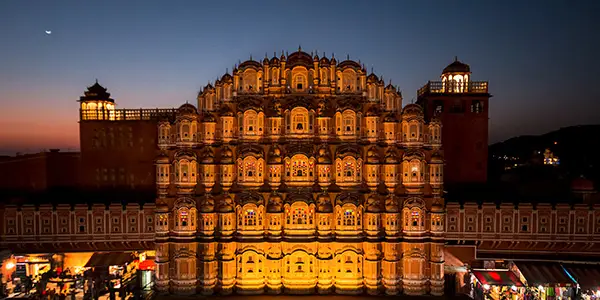 Tiger Safari and Culture Tours
It is hard to believe that once in the town of Sawai Madhopur, one is simply only 10 km away from a national park where Tigers roam freely. This particular park shone on the world wildlife tourism map due to the consistent efforts of Mr. Fateh Singh Rathore. With 1000-year-old fort ramparts in the background and huge lakes in the park, Tigers are home in Ranthambhore.
These lakes have a couple of hundred crocodiles and rarely does one hear encounters of Tigers with Crocodiles, but anything in this mysterious land. In winters, these lakes attract a lot of migratory birds too. Ranthambore has been home to some legendary Tigers – from Ghengis Khan to Noor, then Machli, T17, T24, and now T19.
Experiencing a tiger safari in Ranthambore National Park is truly an enchanting experience that is worth a watch. Book yours now!
Popular Fauna at Ranthambore National Park
His majesty, the national animal of India. The Royal Bengal Tiger is considered by many naturalists as one of the most powerful apex predators. You catch a glimpse of this big cat in action at the Ranthambore National Park.
These voracious omnivores get their name from their fondness for feeding on honey and honeybee larvae. They also eat insects, amphibians, reptiles, birds, and mammals, as well as roots, bulbs, berries, and fruits.
It is a crocodile of medium to large size with the broadest snout of all the living members of the genus Crocodylus. They are more alligator-like than any other crocodile, as most crocodiles have a snout that is pointier.
Safaris at Ranthambore National Park
Ranthambore National Park conducts two types of jeep safaris. A full day safari and a half day safari.
Half Day Jeep Safari: A half day jeep safaris can be further categorized as a morning safari and an evening safari. The morning safaris start around 0600 hours depending on the sunrise time and lasts for about 4.5-5 hours. After the morning safari, the guest heads back to the lodge/resort. You can freshen up, eat a quick lunch, relax for a bit and later head back in to the jungle for your evening safari. The evening safari lasts for about 3 – 3.5 hours depending on the time of sunset. Post your evening safari, you head back to the lodge for dinner and take the rest of the evening at leisure.
Full Day Jeep Safari: A full day safari is a jeep safari wherein your vehicle/jeep enters the park 15-20 minutes prior to all other safari vehicles. You spend the day within the national park, including eating lunch amidst the forest wilderness. You head back out 15 minutes after all the jeeps have exited the park post the evening safari. This type of safari proves more fruitful during pleasant months like October – November or even the fag end of February – March. A full day safari is also mostly taken by professional photographers who are following a particular species or documentarians who wish to film a specific family within the national park.
Our efforts have time and again been recognized by all our guests on TripAdvisor. With reviews that are 100% genuine, you can read them here or head on to our official TripAdvisor page to browse through in detail.
Tiger Safari with Sanjay Gupta and Nature Safari India.
We just finished the first half of two tiger safari tours in India. The first was on the Banhavgar National Park. Our guide was Sanjay Gupta, who had 25 years of experience in the park and with the tigers. He was wonderful, sharing his experience and knowledge throughout our three full days together. He was definitely a highlight of our trip, as a great guide makes for a great experience, whether you see tigers or not! And we did see tigers...
Excellent Experience with Nature Safari India.
Nature Safari India organized our private 2 Weeks Safari in Central India plus a couple of Sightseeing and we are very happy to having choose this agency. I found them on the responsible tiger tourism association (TOFTigers) and I liked them from the very first contact. From the first email more than two years ago to the end of our trip in April 2022, the service was great, the selection of the itinerary, Parks, lodges and guides was perfect...
Excellent Experience with Nature Safari India.
Deepkul and the Tiger Safari India team put together an incredible experience for us in Kanha and Bandhavgarh. All the details were taken care of as per our preferences and budget including transportation, food, lodging, and our amazing safari guides. Deepkul was easy to communicate with and always quick to respond to any questions before and during our trip. Highly recommend!