A magnificent 772 sq. miles (2000 sq. km) of thick Sal Forest, Kanha National Park is set in the eastern part of the heart of India, Madhya Pradesh. This beautiful landscape inspired Nobel Prize Laureate, Sir Rudyard Kipling to write the Jungle Book. Home to the biggest Tigers in India, experts predict, that if the Tiger faced extinction, Kanha will be among the last strong footholds for their survival. With a special bond with its sister parks, Kanha has helped them manage wildlife crises and flourish with species that were on the brink of extinction.
Ruled by the Gondwana dynasty in the past, this land was home to the tribes of Gond and Baiga. These tribes continue to reside around the park, painting the perfect example of how wildlife and human life can co-exist in harmony. They understand the jungle and its importance to the environment and themselves too, helping reduce any man–animal conflict one could think of.
Plan your tailor-made trip with our local expert
Travel stress-free with local assistance and 24/7 support
About Kanha national Park
Parking itself around the Banjar and Halon rivers and a perfect setting for the Tiger, Kanha National park is an evergreen forest with tons of undergrowth that provides ambush. The rolling grasslands and meandering streams provide food for herbivores; and if the prey has food, the predator will always follow. This national park happens to be one of the best-managed forests in terms of wildlife tourism.
Reintroducing the Hard Ground Barasingha was one such achievement. Also called the "Jewel of Kanha", these Barasinghas were put under special enclosures to encourage breeding and avoid extinction. The result was quite evident when their population skyrocketed. From merely 66 in number, Kanha was now home to 600-700 Barasinghas. The department's efforts paid off when Kanha was awarded the best tourism-friendly national parks, by the Government of India.
Altitude: Altitude 600m – 900m above mean sea level
Vegetation: Moist Peninsular Sal Forest, Southern Tropical Moist Mixes Deciduous Forest, Southern Tropical Dry Deciduous Mixed Forest
Water Resources: Banjar River, Halon River
Core Area: 940 sq. km
Buffer Area: 1134 sq. km
Coordinates: 22.3345° N to 80.6115° E
Rainfall: 1443mm
Temperature: 27.8 – 41.8 degree Celsius
Kanha National Park Tiger Safari Tours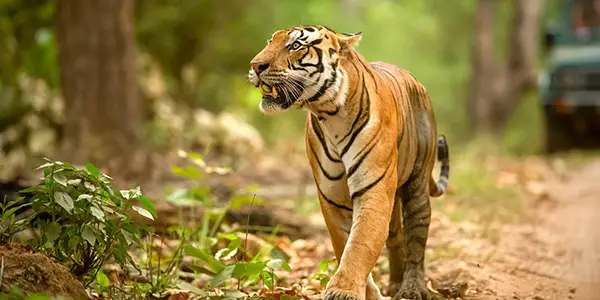 Tiger Safari and Culture Tours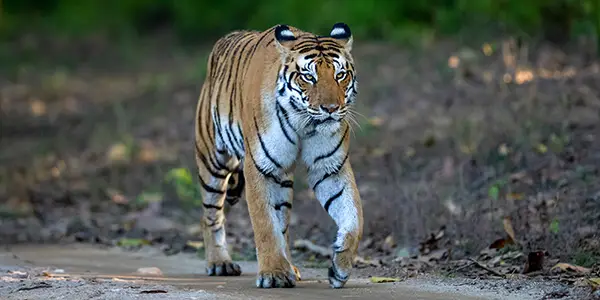 One associates Central India with being a water-stricken and rather hot area – however, the opposite holds true for Kanha. Chilled winters, availability of water around the year, and coolness in the early morning and evening in peak summer characterize the uniqueness of this place.
Being in the tribal belt of South-eastern Madhya Pradesh, it has retained its rich old forest tracts which form corridors for animals, especially migrating tigers, to other forests in Madhya Pradesh such as Pench as well as sanctuaries such as Achanakmar in Chattisgarh. Without these corridors, the medium to the long-term survival of tigers hangs in the balance.
Popular Fauna at Kanha National Park
His majesty, the national animal of India. The Royal Bengal Tiger is considered by many naturalists as one of the most powerful apex predators. You catch a glimpse of this big cat in action at the Kanha National Park.
The gaur also known as the Indian bison, is a bovine native to South and Southeast Asia, and has been listed as Vulnerable on the IUCN Red List since 1986.It is the largest species among the wild cattle and the bovidae.
Barasingha or the swamp deer is a dear species with conspicuously large antlers. Overall, this mammal has as much as 12 antlers. In fact, the name of this species has Hindi origin and means '12-antlered deer'.
Safaris at Kanha National Park
Kanha National Park conducts two types of jeep safaris. A full day safari and a half day safari.
Half Day Jeep Safari: A half day jeep safaris can be further categorized as a morning safari and an evening safari. The morning safaris start around 0600 hours depending on the sunrise time and lasts for about 4.5-5 hours. After the morning safari, the guest heads back to the lodge/resort. You can freshen up, eat a quick lunch, relax for a bit and later head back in to the jungle for your evening safari. The evening safari lasts for about 3 – 3.5 hours depending on the time of sunset. Post your evening safari, you head back to the lodge for dinner and take the rest of the evening at leisure.
Full Day Jeep Safari: A full day safari is a jeep safari wherein your vehicle/jeep enters the park 15-20 minutes prior to all other safari vehicles. You spend the day within the national park, including eating lunch amidst the forest wilderness. You head back out 15 minutes after all the jeeps have exited the park post the evening safari. This type of safari proves more fruitful during pleasant months like October – November or even the fag end of February – March. A full day safari is also mostly taken by professional photographers who are following a particular species or documentarians who wish to film a specific family within the national park.
Kanha National Park also offers walking safaris on guided tiger trails within the buffer zone of the park. Here, the guest is accompanied by a naturalist and a forest guard. On the trail, you are acquainted with the best of flora and fauna by expert naturalists and guides the park has to offer. These trails are fruitful for people who wish to take a break from regular jeep safaris and explore the park vegetation at close quarters.
Our efforts have time and again been recognized by all our guests on TripAdvisor. With reviews that are 100% genuine, you can read them here or head on to our official TripAdvisor page to browse through in detail.
Tiger Safari with Sanjay Gupta and Nature Safari India.
We just finished the first half of two tiger safari tours in India. The first was on the Banhavgar National Park. Our guide was Sanjay Gupta, who had 25 years of experience in the park and with the tigers. He was wonderful, sharing his experience and knowledge throughout our three full days together. He was definitely a highlight of our trip, as a great guide makes for a great experience, whether you see tigers or not! And we did see tigers...
Excellent Experience with Nature Safari India.
Nature Safari India organized our private 2 Weeks Safari in Central India plus a couple of Sightseeing and we are very happy to having choose this agency. I found them on the responsible tiger tourism association (TOFTigers) and I liked them from the very first contact. From the first email more than two years ago to the end of our trip in April 2022, the service was great, the selection of the itinerary, Parks, lodges and guides was perfect...
Excellent Experience with Nature Safari India.
Deepkul and the Tiger Safari India team put together an incredible experience for us in Kanha and Bandhavgarh. All the details were taken care of as per our preferences and budget including transportation, food, lodging, and our amazing safari guides. Deepkul was easy to communicate with and always quick to respond to any questions before and during our trip. Highly recommend!