Project Tiger - About The Tiger
The Tiger is the Largest Wild Cat species in the World : The Siberian or Amur Tiger can weigh up to 320 kg, followed closely by the Royal Bengal Tiger which can even weigh up to 300 kg. They are solitary hunters, who hunt by stealthily approaching their prey upto 10 metres in distance before they are likely to be successful in their attempt usually. Despite their large size, they are an extremely agile animal and can even hit speeds of up to 60 kmph in short bursts. A single leap of a tiger can exceed 20 feet! Their large size demands for large home ranges and ideally anywhere between 30 sq km to 150 sq km varying between subspecies. It is usually the Males who have a large territory and they try to defend their areas from other males who may enter to establish their own ground, or to vie for the Female Tigers which are present in an existing Males' territory,It is this need for habitat which brings them into contact with humans and creates conflict situations due hunting of livestock and rare attacks on humans. A rather fascinating truth is that its clear superiority in size and strength notwithstanding, avoids contact with people and will even hide away from even a single person if their paths cross. Hence their nickname of "The Gentleman of the Jungle".
In an overpopulated country such as India, it is inevitable that the Cat comes into conflict with humans on a daily basis – yet attacks on Man around the 50 Tiger Reserves of India are few and far between. Compensation packages to the victim in cases of death of livestock outside the boundaries of the National Parks ensures that the agitation against the Tiger does not reach an impossible situation with the locals. A Tigress can give birth to upto 5 cubs, however the occurrence of Tigers with 5 cubs is extremely rare and only been observed in only a couple of individuals in Central India. The average litter is 2-3 cubs ; of which only one may successfully be dispersed. They are a forest animal, and rarely venture in the open like the Lion. Their stripes make for useful camouflage in such habitat. Young Male Tigers when dispensed from their mothers tutelage at around 18-22 months, are most likely to travel fair distance in order to find new areas, and due to competition with older and probably larger Male Tigers in their prime, may have to undertake extremely perilous journeys across human habitation, rural and developed, exceeding 200 km to find new forest areas and compete for territory. Not many make it, but the ones who do survive through life-threatening dangers faced due to lack of well-connected forest corridors in India. Worshipped in traditional Hindu and Tribal culture in India, the Tiger is feared and respected at the same time. However, with increasing emphasis on policies for development – the long-term success of Project Tiger hangs in the balance.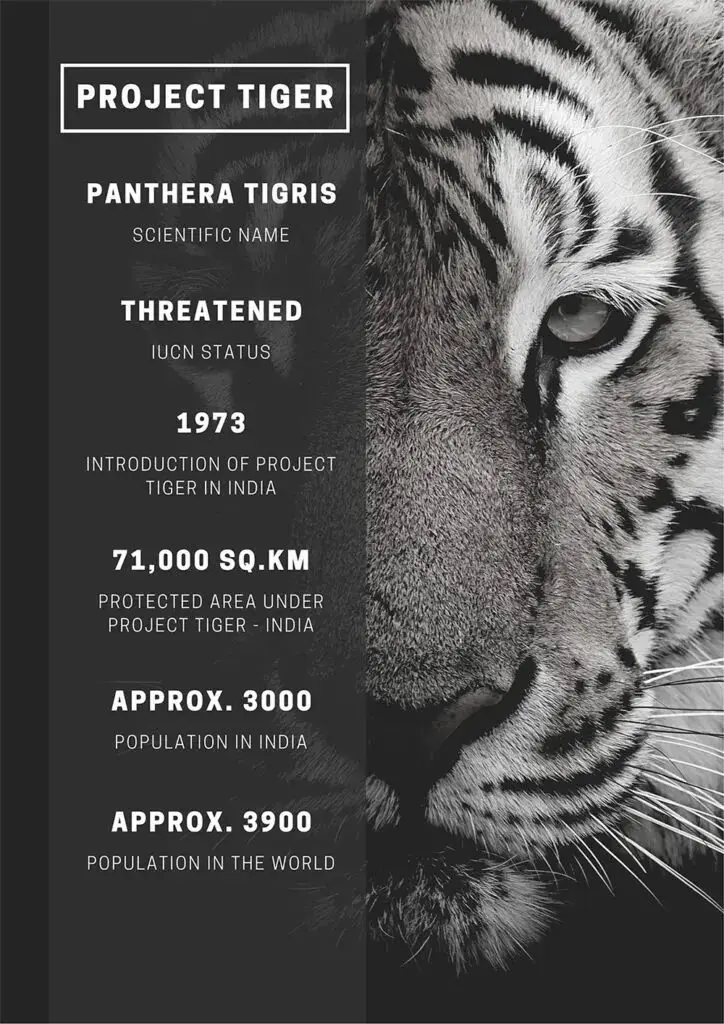 India is now home to almost 75% of the world's Wild Tigers. The relative transparency in the estimation process and the dedication to the project in India of Saving the Tiger is unparalleled.
A rough estimation put the Tiger numbers at around 40000-50000 at the turn of the last century. Since then hunting, poaching and habitat destruction has decimated the Tiger population in India. The demand for parts of the Tiger for traditional ancient medicine and bravado on the part of the people of India after Independence from British Rule, has generally resulted the Tiger population coming to an all-time low after they were treated like vermin in India.
It was only till around 1970, after a period of sustained pressure and data collection of notable Zoologist and Conservationist Mr.Kailash Sankhla, the Government of India was made aware of the need to protect the massacred Tiger and the importance of protecting it as a keystone species. The Prime Minister of India Mrs.Indira Gandhi who was empathetic towards the cause of Wildlife agreed to eventually have the Wildlife Protection Act of 1972 drafted which banned hunting of all species of Wildlife and offered them legal protection in India.
Mr.Kailash Sankhla was appointed as the first Director of Project Tiger. Project Tiger was subsequently launched in 1973, and Jim Corbett Tiger Reserve in Uttarakhand was the first Tiger Reserve brought under its wing. A further 08 Tiger Reserves were demarcated with around 9115 sq km of protected forest – this figure today stands at around 71,000 sq km of protected area and 50 Tiger Reserves established in India in total.
These efforts have shown relative success, and from the figures of 1400 or so Tigers in India in 2006, the figures of the 2018 census show an increase as the figures stand at 3000 Tigers according to official government reports. Adopting more effective use of technology to crack down international poaching mafias and better ground-lever management has resulted in a reduction in poaching. Methods of counting Tigers have provided more accurate results, due to the increased use of camera-traps rather than the Pug-mark casting method. This has resulted in discovery of Tigers in new habitats and a more scientific and fool-proof method of counting tigers which was used a decade ago is now in place.
However, the largest threat faced by Tigers and Wildlife in general in India is the huge population of 1.2 billion in India and the pressures faced by the Land and Natural Resources of the country. The promise of the government to drive towards development of relatively rural India comes at a price, and while the number of Tigers shows an increase due to better methodology of counting and effective measures against poaching, habitat loss and climate change is tough to reverse and thus the future of the Tiger in India is far from secure. A seismic shift in mindset of Indian citizens and favorable government policies towards Sustainable Development are the need of the hour today. Achieving this reality is still a while away in India. India's protected forest cover is about 3% of its total land mass today.
Our efforts have time and again been recognized by all our guests on TripAdvisor. With reviews that are 100% genuine, you can read them here or head on to our official TripAdvisor page to browse through in detail.
"Amazing tiger safari in Ranthambhore"
I came to India for a business trip and spontaneously decided to do a tiger safari over the weekend. The Tiger Safari India team immediately came back to me with different great options and organized the 4-day tour to ...
"Real trip of a lifetime type tour"
My husband and I did a 10 day "Just Tigers" safari. We visited Pench, Kanha and Bandhavgarh reserves. It was not high season but yes we had wonderful tiger sightings. The level of profession of these lovely people was so refreshing...
"The other reviews are all correct!"
I have recently returned from my 17 night trip with Nature Safari India. I was totally looked after from arrival to departure, which as a solo traveller was what I wanted. The drivers and guides provided were all excellent.I opted for a mainly wildlife...