Bandhavgarh National Park
Bandhavgarh National Park is rightfully called the Land of the Tiger. A famous hunting reserve for the Maharajas who ruled these lands, this area has to this day been preserved for shooting wildlife – with cameras. Come take a Tiger Safari in India with us at Bandhavgarh National Park. An almost isolated park, Bandhavgarh has very few migration routes for dispersed male tigers looking to find a home for themselves, hence, along with suitable habitat and prey-base, it has retained a high density of tigers. Around 60 or so wild tigers are in this area. It is often said that it is the best place to see tigers in the wild in the world.
Plan your tailor-made trip with our local expert
Travel stress-free with local assistance and 24/7 support
About Bandhavgarh national Park
The Bandhavgarh Tiger Reserve has spread over 1100 sq. km with a core area of about 440 sq. km. A tiger safari tour in Bandhavgarh, with enthusiastic guides and drivers is a thrilling experience – the routes are taken by the tigers of old are taken to this day by their offspring and one can learn about tracking these tigers through the eyes of the locals.
The landscape at Bandhavgarh is also dominated by Sal and Bamboo, however, its beauty is truly seen at Tala Zone with its famous grasslands, surrounded almost entirely by large hills whereupon old Forts and Watchtowers have been erected – dating back to the 10th century. There is also the famous 60-foot statue of the sleeping Lord Vishnu in the middle of Tala Zone – a sight of tranquility in the tranquil Bandhavgarh forest.
Altitude: 440m to 811m above mean sea level
Vegetation: Tropical moist deciduous, dry deciduous and scrub
Water Resources: Son, Umrar rivers and numerous rain fed streams.
Core Area: 624 sq. km
Buffer Area: 537 sq. km
Coordinates: 80 47' 15" to 81 11' 45 E
Rainfall: 1175 mm
Temperature: Min: 2 C ; Max: 44 C
Bandhavgarh National Park Tiger Safari Tours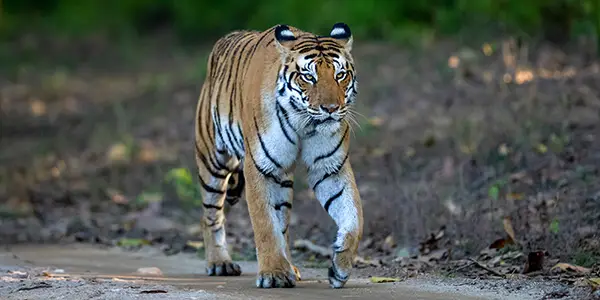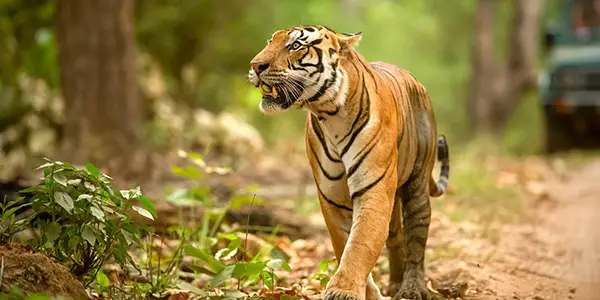 Tiger Safari and Culture Tours
The forests though dominated by Sal Trees like at Kanha and Corbett are much drier and this is evident from February onwards moving into summer. There is a good mix of the scrub forest as well. Though many might scoff at the idea of bird watching, Bandhavgarh National Park is an excellent birding destination with good visibility of birds. It has a very good population of vultures such as the Indian Vulture, White Rumped Vulture which roost along the cliffs. The Asian paradise flycatcher, Golden Oriole, Indian Pitta as well as the sight of the not so common White-capped Bunting.
Hunting grounds for the Maharajas of Rewa in the past, Bandhavgarh is set in a glistening 168 sq. miles (437 sq. km). Its fame is owed to one of the most enchanting Tigresses, Sita, and the most aggressive Tiger, Charger. Every wild Tiger has a short life span for which it remains dominant in the park; though Charger, was something different. He lived an unusually long life and ousted every male Tiger who tried to take over the reins in Bandhavgarh. However, it was only a matter of time when his age gave in.
Two other Tigers B1 and B2, cousins to each other, tried to ambush his territory as he grew older and the latter succeeded. B1 died an uncertain death while B2 ruled as King for the next few years. He became the poster boy for Indian wildlife and put Bandhavgarh on a pedestal for wildlife tourism in India. BBC, Discovery, National Geographic, and even Icon Films could not resist but share the stories of these true legends. Their anecdotes continue to resonate with the park's silence.
Bandhavgarh has been a center of human activity and settlement for over 2000 years, and there are references to it in the ancient books, the Narad-Panch Ratra and the Shiva Purana. Legend has it that Lord Rama, hero of the Hindu epic, the Ramayana, stopped at Bandhavgarh on his way back to his homeland after defeating the demon king Ravana of Lanka. Two monkey architects, who had engineered a bridge between the isles of Lanka and the mainland, are said to have built Bandhavgarh's fort as well.
Various dynasties have ruled the fort, for example, the Maghas from 1st century A.D. and Vakatakas from 3rd century A.D., Ever since then Bandhavgarh has been ruled by a succession of dynasties including the Chandela Kings of Bundelkhand who built the famous temples at Khajuraho. At independence, Bandhavgarh remained the private property of the Maharaja until he gave it to the state for the formation of the National Park in 1968. After the park was created poaching was brought under control and the number of animals rose dramatically.
Other than the fort, other tourist attractions in the Tala Zone of Bandhavgarh park are Shesh Shaiya, Charan Ganga, and Badi Gufa. Don't forget to ask your guide about these! Therefore, it is safe to say that a tiger safari in India is incomplete without experiencing all that Bandhavgarh National Park has to offer.
Popular Fauna at Bandhavgarh National Park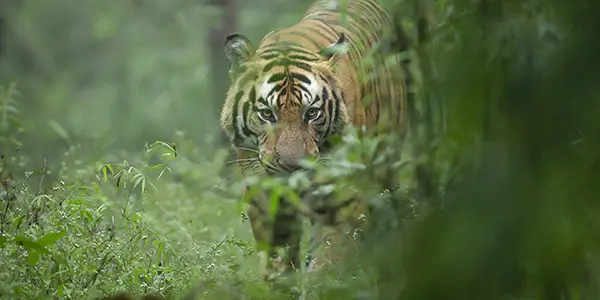 His majesty, the national animal of India. The Royal Bengal Tiger is considered by many naturalists as one of the most powerful apex predators. You catch a glimpse of this big cat in action at the Bandhavgarh National Park.
The gaur also known as the Indian bison, is a bovine native to South and Southeast Asia, and has been listed as Vulnerable on the IUCN Red List since 1986.It is the largest species among the wild cattle and the bovidae.
This is a species of deer that is native to the Indian subcontinent. The chital is a moderately sized deer. Males reach nearly 90 cm and females 70 cm at the shoulder; the head-and-body length is around 1.7 m.
Safaris at Bandhavgarh National Park
Bandhavgarh National Park conducts two types of tiger jeep safaris. A full-day safari and a half-day safari.
Half Day Jeep Safaris: A half day jeep safaris can be further categorised as a morning safari and an evening safari. The morning safaris start around 0600 hours depending on the sunrise time and lasts for about 4.5-5 hours. After the morning safari, the guest heads back to the lodge/resort.
You can freshen up, eat a quick lunch, relax for a bit and later head back in to the jungle for your evening safari. The evening safari lasts for about 3 – 3.5 hours depending on the time of sunset. Post your evening safari, you head back to the lodge for dinner and take the rest of the evening at leisure.
Full Day Jeep Safaris: A full day safari is a jeep safari wherein your vehicle/jeep enters the park 15-20 minutes prior to all other safari vehicles. You spend the day within the national park, including eating lunch amidst the forest wilderness.
You head back out 15 minutes after all the jeeps have exited the park post the evening safari. This type of safari proves more fruitful during pleasant months like October – November or even the fag end of February – March. A full day safari is also mostly taken by professional photographers who are following a particular species or documentarians who wish to film a specific family within the national park.
Our efforts have time and again been recognized by all our guests on TripAdvisor. With reviews that are 100% genuine, you can read them here or head on to our official TripAdvisor page to browse through in detail.
Tiger Safari with Sanjay Gupta and Nature Safari India.
We just finished the first half of two tiger safari tours in India. The first was on the Banhavgar National Park. Our guide was Sanjay Gupta, who had 25 years of experience in the park and with the tigers. He was wonderful, sharing his experience and knowledge throughout our three full days together. He was definitely a highlight of our trip, as a great guide makes for a great experience, whether you see tigers or not! And we did see tigers...
Excellent Experience with Nature Safari India.
Nature Safari India organized our private 2 Weeks Safari in Central India plus a couple of Sightseeing and we are very happy to having choose this agency. I found them on the responsible tiger tourism association (TOFTigers) and I liked them from the very first contact. From the first email more than two years ago to the end of our trip in April 2022, the service was great, the selection of the itinerary, Parks, lodges and guides was perfect...
Excellent Experience with Nature Safari India.
Deepkul and the Tiger Safari India team put together an incredible experience for us in Kanha and Bandhavgarh. All the details were taken care of as per our preferences and budget including transportation, food, lodging, and our amazing safari guides. Deepkul was easy to communicate with and always quick to respond to any questions before and during our trip. Highly recommend!