Jim Corbett National Park
Renamed from Ramganga to Jim Corbett National Park, it is an ode to the hunter-turned conservationist and author, Colonel Jim Corbett. Located in the foothills of the mighty Himalayas, Corbett is one of the most scenic national parks with rich bio-diversity. Tigers, Asian Elephants, Leopards, Sloth Bears, Deers, Crocodiles, Gharials, King Cobras, and over 580 species of birds, Corbett is a haven for the wildlife enthusiasts.
The stand out point here is the accommodation inside the forest, in the Government managed rest houses. Located beautifully, every rest house is a masterpiece, but it is Dhikala which is preferred due to its strategic location next to the river, attracting a lot of big and small wildlife.
Plan your tailor-made trip with our local expert
Travel stress-free with local assistance and 24/7 support
About Jim Corbett national Park
India's first and finest park spread over 520 sq. km. along the banks of the Ramganga river, just 300 km. northeast of New Delhi in the foothills of the Great Himalayas, is Corbett National Park. It was initially established as Hailey National Park on August 8, 1936, in honor of Sir Malcolm Hailey, the then governor of the United Provinces. Its name was later changed to Ramganga National Park in 1952.
It was in 1957 that the park's name was changed for a final time to Jim Corbett National Park, in honor and memory of late James Edward Corbett; the legendary hunter, naturalist-turned-author, and photographer who had helped in setting up the park and demarcating its boundaries. With the highest density of Tigers in the country – approximately one every 5 sq.km., it was Corbett where the prestigious "Project Tiger" was first kicked in action in the year 1973.
Altitude: 400m – 1220m above mean sea level
Vegetation: Moist Deciduous Forest
Water Resources: Ramganga River, Sonanadi, Palain, Mandal
Core Area: 520 sq. km
Buffer Area: 797 sq. km
Coordinates: 29.5300° N to 78.7747° E
Rainfall: 1400-2800mm
Temperature: 30 Degree Celcius
Corbett National Park Tiger Safari Tours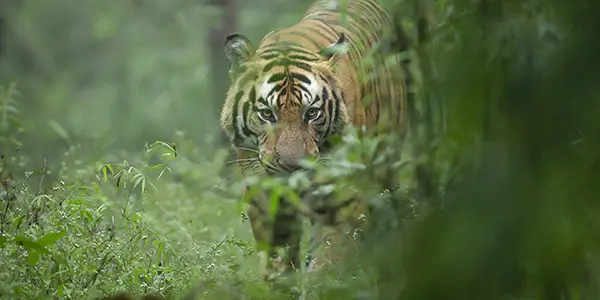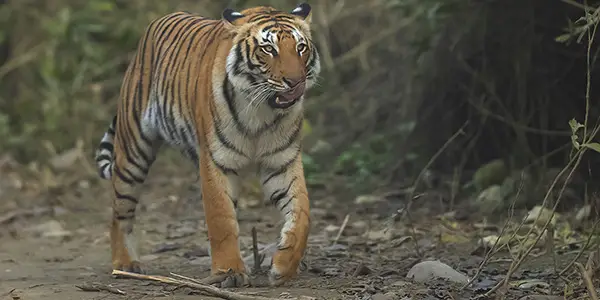 Tiger Safari and Culture Tours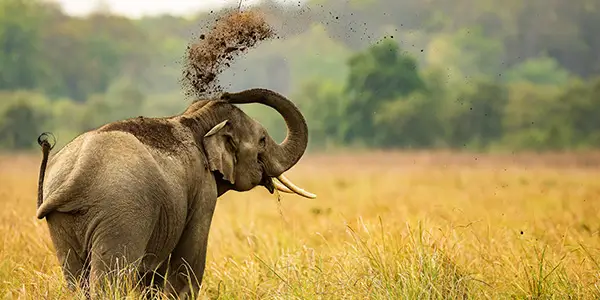 Jim Corbett national park is regarded as one of the true bird parks of the world. Out of the 2,060 species and subspecies of birds recorded in the Indian subcontinent, over 600 species/subspecies of birds have been recorded from Corbett at one time or another. This number is greater than the total number of bird species found in Europe and represents around one-fourth of the available diversity found in India. Out of the 69 species of raptors found in India, 49 can be seen in Corbett making it a striking element of the local avifauna.
Varied topography and vegetation give Corbett a rich diversity in habitats and natural beauty. While dense stands of sal cloak the higher ridges, mixed deciduous forests are found throughout the Park and over 110 varieties of trees, 51 species of shrubs, and over 33 kinds of bamboos and grasses are seen here..
Popular Fauna at Jim Corbett National Park
His majesty, the national animal of India. The Royal Bengal Tiger is considered by many naturalists as one of the most powerful apex predators. You catch a glimpse of this big cat in action at the Corbett National Park.
It is the largest land mammal on the Asian continent. They inhabit dry to wet forest and grassland habitats in 13 range countries spanning Southeast Asia. Asian elephants have adapted to surviving on resources that vary based on the area.
It is a medium-sized carnivore, closely related to the weasel and otter. This mainly diurnal species is both terrestrial and arboreal in habits. Its diet is wide-ranging and includes a variety of small vertebrate prey, such as squirrels and reptiles.
Safaris at Jim Corbett National Park
Jim Corbett National Park conducts half day jeep safaris. A half day jeep safaris can be further categorized as a morning safari and an evening safari. The morning safaris start around 0600 hours depending on the sunrise time and lasts for about 4.5-5 hours. After the morning safari, the guest heads back to the lodge/resort. You can freshen up, eat a quick lunch, relax for a bit and later head back in to the jungle for your evening safari. The evening safari lasts for about 3 – 3.5 hours depending on the time of sunset. Post your evening safari, you head back to the lodge for dinner and take the rest of the evening at leisure.
A canter is a minibus. A safari in this mini bus is conducted twice per day – in the morning & in the afternoon. The canter can accommodate around 15 – 20 people at once.
Our efforts have time and again been recognized by all our guests on TripAdvisor. With reviews that are 100% genuine, you can read them here or head on to our official TripAdvisor page to browse through in detail.
Tiger Safari with Sanjay Gupta and Nature Safari India.
We just finished the first half of two tiger safari tours in India. The first was on the Banhavgar National Park. Our guide was Sanjay Gupta, who had 25 years of experience in the park and with the tigers. He was wonderful, sharing his experience and knowledge throughout our three full days together. He was definitely a highlight of our trip, as a great guide makes for a great experience, whether you see tigers or not! And we did see tigers...
Excellent Experience with Nature Safari India.
Nature Safari India organized our private 2 Weeks Safari in Central India plus a couple of Sightseeing and we are very happy to having choose this agency. I found them on the responsible tiger tourism association (TOFTigers) and I liked them from the very first contact. From the first email more than two years ago to the end of our trip in April 2022, the service was great, the selection of the itinerary, Parks, lodges and guides was perfect...
Excellent Experience with Nature Safari India.
Deepkul and the Tiger Safari India team put together an incredible experience for us in Kanha and Bandhavgarh. All the details were taken care of as per our preferences and budget including transportation, food, lodging, and our amazing safari guides. Deepkul was easy to communicate with and always quick to respond to any questions before and during our trip. Highly recommend!