The Elephant is the largest land mammal on the planet, and the African Elephant species currently holds that title. However, the Indian Elephant is not far behind – it stands at around 8 feet and can weigh upto 5.5 tonnes. A social and extremely intelligent animal, it is a symbol of the beauty of Indian Wildlife landscape and has been declared the Natural Heritage Animal of India. The Indian Elephant has been worshipped in India since centuries as the God known as "Ganesh", and the general feeling in India of respect and fear of the great mammal. Unfortunately, the extreme population and shrinking habitat has caused tremendous conflict of the species with humans as the depleting corridors and degradation of forest causes elephants to raid crops in rural India and more alarmingly, deaths due to train accidents and electrical fences is rather common nowadays. The demand for ivory also exists and poaching threats are large.
The Indian Elephant is of a different subspecies from its close cousin – The Sri Lankan Elephant – whose behaviour and habitat is certainly similar. Elephants live in herds led by the Matriarch comprising of calves, sub-adults and adult females. The male sub-adults are driven away by the Matriarch when they reach sexual maturity around the age of 14. These bull elephants then live rather solitary lives, and approach different herds to mate with the females should they be willing.
In an overpopulated country such as India, it is inevitable that the Cat comes into conflict with humans on a daily basis – yet attacks on Man around the 50 Tiger Reserves of India are few and far between. Compensation packages to the victim in cases of death of livestock outside the boundaries of the National Parks ensures that the agitation against the Tiger does not reach an impossible situation with the locals. A Tigress can give birth to upto 5 cubs, however the occurrence of Tigers with 5 cubs is extremely rare and only been observed in only a couple of individuals in Central India. The average litter is 2-3 cubs ; of which only one may successfully be dispersed. They are a forest animal, and rarely venture in the open like the Lion. Their stripes make for useful camouflage in such habitat. Young Male Tigers when dispensed from their mothers tutelage at around 18-22 months, are most likely to travel fair distance in order to find new areas, and due to competition with older and probably larger Male Tigers in their prime, may have to undertake extremely perilous journeys across human habitation, rural and developed, exceeding 200 km to find new forest areas and compete for territory. Not many make it, but the ones who do survive through life-threatening dangers faced due to lack of well-connected forest corridors in India. Worshipped in traditional Hindu and Tribal culture in India, the Tiger is feared and respected at the same time. However, with increasing emphasis on policies for development – the long-term success of Project Tiger hangs in the balance.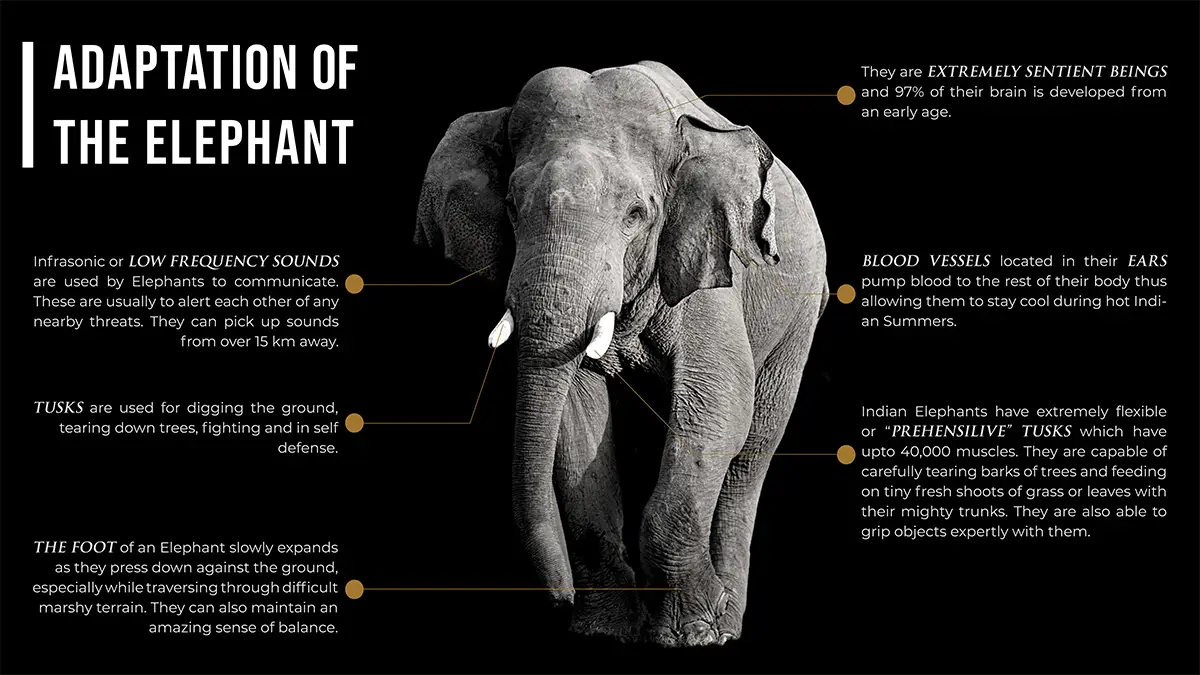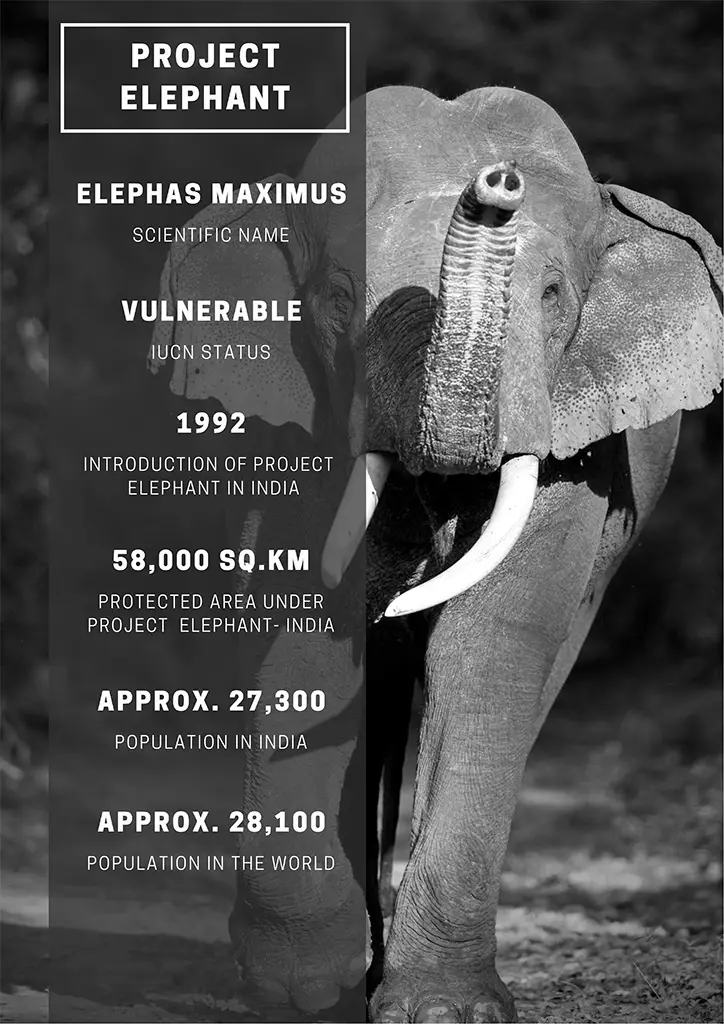 Project Elephant – Objectives
1. To protect elephants, their habitat & corridors.
2. To address issues of man-animal conflict.
3. The welfare of captive elephants.
Project Elephant – Activities
Financial and support are being provided to major elephant bearing States in the country. Project Elephant is being mainly implemented in 16 States across 32 Elephant Reserves, viz. Andhra Pradesh, Arunachal Pradesh, Assam, Chhattisgarh, Jharkhand, Karnataka, Kerala, Maharashtra, Meghalaya, Nagaland, Orissa, Tamil Nadu, Tripura, Uttarakhand, Uttar Pradesh, West Bengal.
Main activities under Project Elephant are as follows:
1.  Research on Elephant management related issues;
2.  Public education and awareness programmes;
3.  Eco-development
4.  Veterinary care
5.  Elephant Rehabilitation/Rescue Centers.
6. Ecological restoration of existing natural habitats and migratory routes of elephants are builder.
7. Development of scientific and planned management for conservation of elephant habitats and viable population of Wild Asiatic elephants in India;
8. Promotion of measures for mitigation of man-elephant conflict in crucial habitats and moderating pressures of human and domestic stock activities in crucial elephant habitats;
9. Strengthening of measures for the protection of Wild elephants from poachers and unnatural causes of death;
Project Elephant has been formally implementing MIKE (Monitoring of Illegal Killing of Elephants) programme of CITES in 10 ERs since January 2004. It is mandated by COP resolution of CITES. Project Elephant was started in South Asia in 2003 with the following purposes:
1. To measure levels and trends in illegal hunting of elephants.
2. To determine changes in these trends over time.
3. To determine the factors causing or associated with these changes and to try and assess in particular to what extent observed trends are a result of any decisions taken by the Conference of the Parties to CITES.
Data is collected from all sites on monthly basis in specified MIKE patrol form and submitted to Sub-Regional Support Office for South Asia Programme in Delhi who are assisting Ministry in implementation of the programme.

Project Elephant did a 36-months research project (2003-04 to 2006-07) with the help of the Central Rice Research Institute (CRRI), Cuttack, for developing high yielding varieties of paddy not relished by elephants; developing elephant-proof storage bins for food grains; and developing elephant repellents. The project is being carried out at the CRRI's research stations in Orissa and Assam. Two projects (2003-04 to 2006-07) with the help of the Assam Agricultural University on "Disease management in captive elephants" and "Anatomical studies on the Asian elephant" were conducted. PE entrusted WII with a small project (2004-05 to 2005-06) to study the impact of the relocation of the Gujjar on the flora and fauna of Rajaji National Park and with the Indian Statistical Institute helped the West Bengal Forest Department carry out a sample-based enumeration of elephants during 2005.
Project Elephant has also imbibed the use of eco-tourism for generating extra revenue for the welfare of captive breeding programmes for elephants. PE has been organizing regular refresher courses for veterinarians dealing with wild and domesticated elephants at Kerala Agricultural University, Thrissur and Assam Agricultural University, Guwahati. PE has initiated a programme for registration of domesticated elephants by using microchips. More than 1000 elephants have been microchipped so far in Assam, Arunachal Pradesh, West Bengal, Andaman & Nicobar and Delhi etc. Project Elephant has organized necessary training for this purpose and also arranged for supply of standard microchips and readers to all the States known to possess domesticated elephants.
Our efforts have time and again been recognized by all our guests on TripAdvisor. With reviews that are 100% genuine, you can read them here or head on to our official TripAdvisor page to browse through in detail.
"Amazing and worth every penny"
this was our second tiger safari at Corbett with Nature Safari and turned out to be worth every penny.We saw 7 tigers in 3 days and from quite close distance too. The best part was seeing a tigress wit her 2 grown cubs who crossed our path and walked...
"Well organised Tour Operator"
Sharad and his team created a 10 day tour for my wife and I 22 months ago. Because we were very impressed by their service back then we have just used them again for 2 x 6 night centres at Kaziranga (Assam) and Chitwan (Nepal) ...
"Amazing tiger safari in Ranthambhore"
I came to India for a business trip and spontaneously decided to do a tiger safari over the weekend. The Tiger Safari India team immediately came back to me with different great options and organized the 4-day tour to ...