The Snow Leopard is one of India's 5 Big Cats amongst the Royal Bengal Tiger, Asiatic Lion, Indian Leopard and the Clouded Leopard. Their brilliant camouflage and elusiveness nature gives them the reputation of being the "Ghost of the Mountain". It is the most difficult Big Cat to spot in the Wild. Occurring in the high altitude Himalayan & trans-Himalayan Region at over 2700m above sea-level, their prey base includes Ghoral, Himalayan Blue Sheep, Himalayan Tahr, Tibetan Argali, Himalayan Ibex, Marmots, Pikas and Hares. Although over the years due to the lack of protection against poaching and degradation of habitat causing decline of wildlife, they have come perilously close to human habitat and often rely on killing livestock – leading to human-animal conflict in the region. This usually occurs during winter when the snow line extends to the lower elevations. Unlike Wolves, they are solitary animals and each Snow Leopard in India covers an area of roughly 150 – 200 sq. km – considering a lack of prey density, the protected areas need to be expanded for the betterment of the species.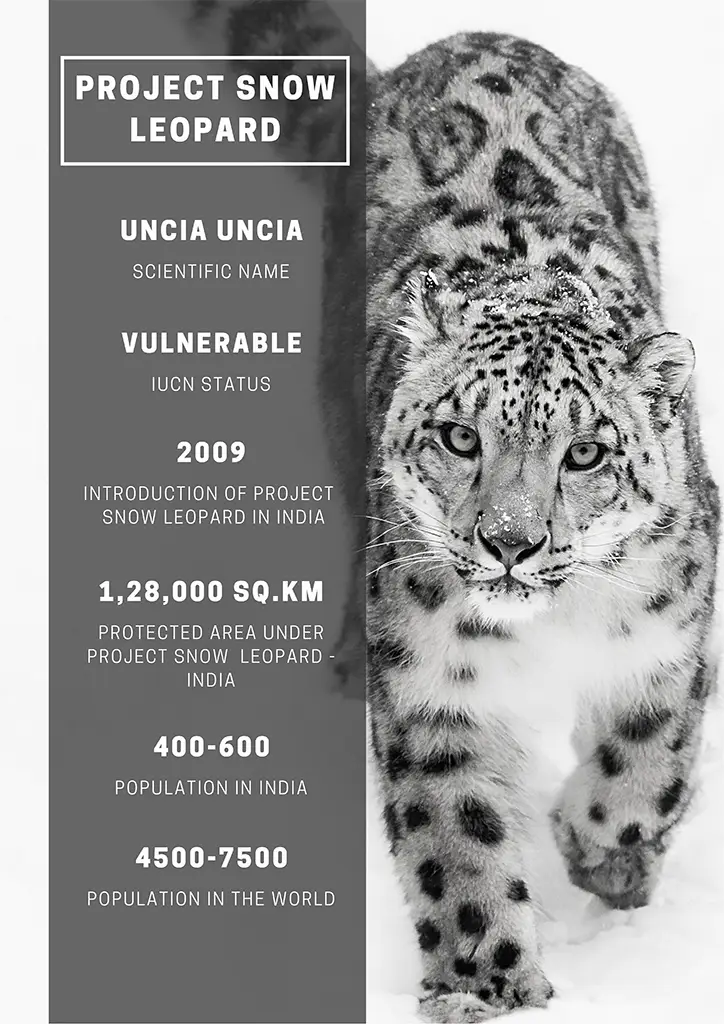 India is home to an estimated 10% of the global Snow Leopard population spread across five Himalayan states of Jammu & Kashmir, Himachal Pradesh, Uttarakhand, Sikkim and Arunachal Pradesh which is only 5% of the available global habitat for the animal.
Project Snow Leopard was introduced in India by the Project Snow Leopard Committee instituted by the Ministry of Environment and Forests, Government of India, in the year 2009 to safeguard and conserve India's unique natural heritage of high altitude wildlife populations and their habitats by promoting conservation through participatory policies and actions.
Project Tiger and Project Elephant is prevalent in India with the former introduced in 1973 garnering worldwide attention.
The Snow Leopard usually occurs at an altitude of >2700m above sea level and it is the apex predator in the Himalayan Region along with the Tibetan Wolf. It is a project not only to protect the Snow Leopard, but as with Project Tiger, it is considered an umbrella species and with its protection, comes the protection of other species and the habitat which they are all a part of.
Top 3 National Parks in India where the Snow Leopard can likely be seen :
1. Kibber Wildlife Sanctuary – Himachal Pradesh
2. Ulley Valley – Ladakh
3 .Hemis National Park – Himachal Pradesh
The reasons outlined for introduction of Project Snow Leopard are briefly as follows
1. High altitudes of India > 3000m including the Himalayan & Trans-himalayan biogeographic zones support a unique wildlife assemblage of global conservation.
Eg. Himalayan Black Bear, Himalayan Brown Bear, Tibetan Wolf, Kiang, Hangul, Musk Deer, Tibetan Gazelle, Wild Yak, Himalayan Serow, Tibetan Argali, Red Panda, Bar-headed Goose, Black-necked Crane amongst several unique species.
2. There has been relatively less attention on the region from the viewpoint of wildlife conservation.
3. The region represents a vast rangeland system supporting important traditional pastoral economies and lifestyles.
Pastoralism in the Indian high altitudes dates back to several millennia, and, today, forms an important traditional means of livelihood that has economic and cultural value. Trade in pashmina wool is already an important local industry in many areas. The unique high altitude vegetation, with rare plants, has led to the development of rich local medicinal systems. Many high altitude herbs are also being used by pharmaceutical and Ayurvedic industries. Today, natural resource use including grazing and other forms of resource extraction (fuel, timber, medicinal plants) is pervasive in the entire Indian high altitude landscape, including inside protected areas
4. The region provides essential ecosystem services and harbours river systems vital for the nation's food security.
Several perennial rivers such as the Indus, Ganga, Yamuna, Sutlej, Tista and Bhramaputra, have their main catchments in the Indian high altitudes and supply drinking water, irrigation, and electricity to the entire north and north-eastern states of India. Degradation and erosion of the fragile mountainous landscape will therefore not just threaten the region's natural resources, but also the nation's food security.
5. India has ratified international agreements promoting the conservation of high altitude wildlife species such as the snow leopard.
In 2003, the Convention on Migratory Species included the snow leopard as a Concerted Action Species under its Appendix I. Similarly, in 2003, the Convention on International Trade in Endangered Species (CITES) expanded the scope of the CITES Tiger Enforcement Task Force to include all Asian big cat species including the snow leopard.
6. The region is important for the country's national security as well as international relations.
Most of the Indian high altitude region fringes international borders. The welfare of local people through ecologically responsible development is therefore important for the country's national security. Furthermore, the wildlife value of the region makes the possibility of establishing international peace parks.
7. The high altitude wildlife in India today faces a variety of threats.
The Snow Leopard, Wolf, and other carnivores are widely persecuted in retaliation against livestock depredation. Many mountain ungulate populations, important prey of these carnivores, are being depleted and lost due to competition with livestock, as well as hunting for meat. Seasonally migrating livestock herds, as well as livestock imported into the region for meat pose a serious risk of spreading exotic diseases to wildlife. Overstocking rangelands with livestock is causing vegetation degradation, which threatens the sustainability of pastoral production as well as the survival of wildlife populations15. There are increasing linkages between local persecution of wildlife and the larger illegal wildlife trade. Unplanned tourism threatens sensitive and biologically important high altitude wetlands. Although in many areas there has been substantial cultural tolerance for wildlife, this is fast eroding in the face of development and human-wildlife conflicts.
8. The existing high altitude protected areas in India require considerable strengthening.
The protected area management in the Indian high altitudes often faces a lack of resources, manpower, and training. Some existing protected areas do not have a clear boundary demarcation, while some others have large areas within them that are of little biological value. Given the lack of options and alternatives for local communities in this harsh landscape, most of the protected areas are often intensively used for livestock grazing and other forms of resource extraction, even inside National Parks. The harsh, remote, and marginal landscape provides few opportunities for alternate livelihood sources for the local communities, and it is nearly impossible to create and maintain large, inviolate National Parks. Most protected areas in the region lack updated and effective management plans and, compared to the Tiger and Elephant reserves, have not received adequate conservation attention. Protected area management in the region needs to be rationalized with clear management plans and land use zonation, with greater technical and monetary resources being made available to wildlife managers.
9. Wildlife Management in the region needs to be made participatory.
Given the widespread occurrence of wildlife on common land, and the continued traditional land use within protected areas, it is imperative that wildlife conservation efforts be made participatory both within and outside protected areas. Such a participatory approach will be facilitated by the relatively intact and functional traditional administrative bodies such as the village councils in most of the high altitude landscape. The success of recent experiments in participatory conservation underscores the desirability and feasibility of participatory wildlife management in the Indian high altitudes. These participatory approaches need to be coupled with better protection and law enforcement.
Our efforts have time and again been recognized by all our guests on TripAdvisor. With reviews that are 100% genuine, you can read them here or head on to our official TripAdvisor page to browse through in detail.
"Outstanding experience at Kaziranga and Nameri thanks to Nature Safari India!"
Sharad and his team at Nature Safari India did a wonderful job of organizing a seamless and satisfying experience for me at Kaziranga and Nameri National Parks in Assam. I was the odd visitor...
"Amazing tiger safari in Ranthambhore"
I came to India for a business trip and spontaneously decided to do a tiger safari over the weekend. The Tiger Safari India team immediately came back to me with different great options and organized the 4-day tour to ...
"Amazing and worth every penny"
this was our second tiger safari at Corbett with Nature Safari and turned out to be worth every penny.We saw 7 tigers in 3 days and from quite close distance too. The best part was seeing a tigress wit her 2 grown cubs who crossed our path and walked...