Bandhavgarh National Park – A Traveller's Guide 2021
About Bandhavgarh National Park
Bandhavgarh National Park is rightfully called the Land of the Tiger. A famous hunting reserve for the Maharajas who ruled these lands, this area has to this day been preserved for shooting wildlife – with cameras. Come take a Tiger Safari in India with us at Bandhavgarh National Park.
An almost isolated park, it has a very few migration routes for dispersed male tigers looking to find a home for themselves, hence, along with suitable habitat and prey-base, it has retained a high density of tigers. Around 60 or so wild tigers are in this area.
Various dynasties have ruled the fort, for example, the Maghas from 1st century A.D. and Vakatakas from 3rd century A.D., Ever since then Bandhavgarh has been ruled by a succession of dynasties including the Chandela Kings of Bundelkhand who built the famous temples at Khajuraho. The Baghel Kings (direct ancestors of the present Royal family of Rewa) established their dynasty at Bandhavgarh in the 12th century. It remained their capital till 1617 when the center of court life moved to Rewa, 75 miles (120Kms) to the north. Without royal patronage Bandhavgarh became more and more deserted until forest overran the area and it became the royal hunting reserve. This helped to preserve the forest and its wildlife, although the Maharajas made full use of their rights. Each set out to kill the auspicious number of 109 Tigers.
At independence Bandhavgarh remained the private property of the Maharaja until he gave it to the state for the formation of the National Park in 1968. After the park was created poaching was brought under control and the number of animals rose dramatically.
Tigers at Bandhavgarh National Park
Its fame is owed to one of the most enchanting Tigress, Sita, and the most aggressive Tiger, Charger. Every wild Tiger has a short life span for which it remains dominant in the park; though Charger, was something different. He lived an unusually long life and ousted every male Tiger who tried to take over the reins in Bandhavgarh. However, it was only a matter of time when his age gave in.
Two other Tigers B1 and B2, cousins to each other, tried to ambush his territory as he grew older and the latter succeeded. B1 died an uncertain death while B2 ruled as King for the next few years. He became the poster boy for Indian wildlife and put Bandhavgarh at a pedestal for wildlife tourism in India. BBC, Discovery, National Geographic and even Icon Films could not resist but share the stories of these true legends. Their anecdotes continue to resonate the park's silence.
Destinations Covered: New Delhi – Corbett National Park – New Delhi – Jabalpur – Bandhavgarh National Park – Kanha National Park – Raipur – New Delhi – Fly Back
Take a tiger safari tour through some of the most renowned national parks in India : Corbett, Kanha and Bandhavgarh. While the former is located in the foothills of the Great Himalayas, the latter two are a part of the Cenral Indian Highlands.
BOOK IT!
With Nature Safari India
Book a Bandhavgarh Tiger Safari Tour with expert guidance from our in-house naturalists and guides!
Reaching Bandhavgarh National Park
Airport: Bandhavgarh is a jungle, naturally not having an air strip. However, it is well connected to cities in Madhya Pradesh, that do. Jabalpur, approximately 200 kms from the park, is well connected by air with major cities in the country, i.e. New Delhi and Mumbai.
Railway: Reaching Bandhavgarh by Train is simple too. Trains to Umaria (37 kms), Katni (100 kms) and Jabalpur (180 kms) Railway Station, run from major cities in the country, like Mumbai, New Delhi, Jaipur, Agra, Mathura, Gwalior, Bhopal, Sawai Madhopur, Hyderabad, Bengaluru, Chennai etc. One can drive to Bandhavgarh post this point.
Road: Umaria is at a mere distance of 37 kms, Umaria is just a 45 minute drive from the Park. Jabalpur is at a mere distance of 190 kms, Jalbalpur is just a 04 hour drive from the Park. Katni is at a mere distance of 100 kms, Katni is just a 02 hour drive from the Park.
Popular Bandhavgarh Tiger Safari Tours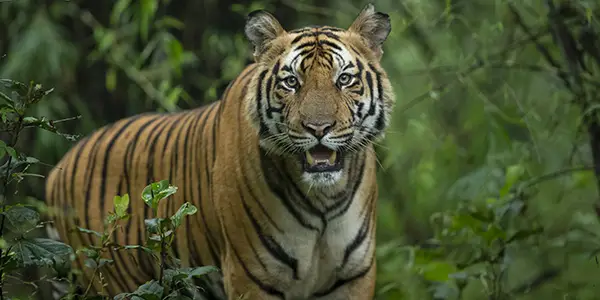 Tiger Safari India Tours – Tap into the timelessness of the very forests that brought Rudyard Kipling's 'Jungle Book' come to life. It is here that the grand Sal trees, bamboo forests and jungle thickets…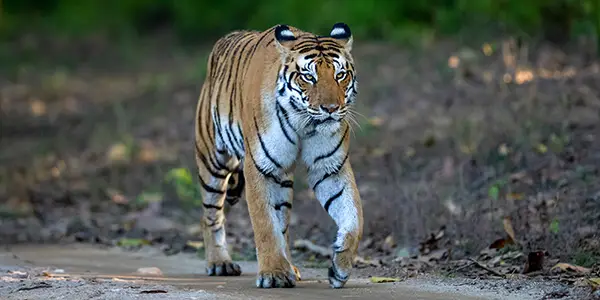 Tiger Safari India Tours – Luxury Wildlife Safari in Central India takes you through the most rewarding national parks in the country. Kanha, Bandhavarh, Pench and Panna. The region is gifted…
Tiger Safari India Tours – Immerse yourself in the chapter of the forest as you navigate the central highlands of the Tiger State, Madhya Pradesh, with our Just Tiger Safari Expedition in India…
Best Time to Spot Tigers at Bandhavgarh National Park
Planning a visit to Bandhavgarh National Park is a crucial step, as small details like date, season and lodging can make or break your vacation. When it comes to deciding when to visit, there really isn't the best option. It entirely depends on your preference and what the park has to offer at that time of the year.
Visiting the park in winter (October – February): While being an ideal time to visit Bandhavgarh, we would recommend reaching Bandhavgarh not before 15th November. Sudden post monsoon showers could affect your tiger safari experience here.
Visiting the park in monsoon (July – September): The park remains closed due to heavy downpour of the monsoon season.
Visiting the park in summer (March – June): The park is open during this season and is also regarded by many tour operators as the ideal months to visit. This is mainly due to the fact that the flora and fauna of the park are in full display during the summer. Yes, it gets scorchingly hot, however, that gives an opportunity to the big cat to rest closer to the few and far in between water holes.
Where to stay during your Bandhavgarh Tiger Safari
Taj Mahua Kothi

$ $ $

Mahua Kothi or homestead is named after the Mahua tree which is prized and revered in the region. The resort in Bandhavgarh has 12 standalone luxury cottages.

❯ ENQUIRE

Tree House Hideaway

$ $

$

On and among the trees in the five tree houses, there is a route to hide away of fantasies. In the 21 acres' area of land lies an option of experiencing the snug life inside the rooms.

❯ ENQUIRE

Bandhav Vilas Resort

$

$ $

Nestled among the picturesque Vindhya Hills & the natural beauty of the wilds, Bandhav Vilas is the luxury jungle resort on the edge of the Bandhavgarh tiger reserve. 

❯ ENQUIRE

Tiger Den Resort

$

$ $

Situated on the fringes of a local village "Tala" the Tiger's Den Resort offers you a location advantage, which no other resort does, it offers you a chance of touring a nearby village.

❯ ENQUIRE 
Zoning in: The Bandhavgarh National Park Experience
Every park is divided into 3 kinds of zones: Core, Buffer ad Reserved. Core zone is the protected area of the jungle. It acts as a referral point on the natural state of the ecosystems represented by the biosphere reserves. Wildlife and natural resources are strictly protected by the forest department. Buffer zone is where animals and a percentage of human life co-exist peacefully. Lastly, reserved forest acts as a virtual boundary for the forest. That being said, animals don't know what a "zone" is. They roam around freely in the entire forest for it is their home.
Bandhavgarh National Park has 3 core zones, Tala, Maghdi and Khitauli. Tala is the oldest zone. Bandhavgarh Fort, Badi Gufa, Shesh Shaiya and Chakradhara Hide are a few places that make this zone extremely special. Maghdi and Khitauli lie opposite each other, with excellent Tiger sightings as well. They are referred as Gate no.2 and Gate no.3 respectively. With excessive tourist foot fall in Tala, Maghdi and Khitauli act as a breather, with a completely different perspective of Bandhavgarh. Tala provides great landscape and picturesque views, while Maghdi and Khitauli give you true jungle chills.
Wildlife at Bandhavgarh National Park
ROYAL BENGAL TIGER: His majesty, the national animal of India. The Royal Bengal Tiger is considered by many naturalists as one of the most powerful apex predators. You catch a glimpse of this big cat in action at the Bandhavgarh National Park.
INDIAN BISON: The gaur also known as the Indian bison, is a bovine native to South and Southeast Asia, and has been listed as Vulnerable on the IUCN Red List since 1986.It is the largest species among the wild cattle and the bovidae.
AXIS DEER: This is a species of deer that is native to the Indian subcontinent. The chital is a moderately sized deer. Males reach nearly 90 cm and females 70 cm at the shoulder; the head-and-body length is around 1.7 m.
GREY LANGUR: Also called Hanuman langurs or Hanuman monkeys, are Old World monkeys native to the Indian subcontinent. Grey langurs are fairly terrestrial, inhabiting forest, open lightly wooded habitats, and urban areas.
Types of Safaris at Bandhavgarh National Park
If you've decided to pay a visit to a national park, you know pretty well that you aren't leaving without embarking on a wildlife safari tour. Lucky for you, the Bandhavgarh National Park has one of the most engaging safari experiences among all national parks in India.
There are 3 safari types you can choose from:
Jeep Safari: Bandhavgarh National Park conducts two types of jeep safaris. A full day safari and a half day safari.
> Half Day Jeep Safaris: A half day jeep safaris can be further categorized as a morning safari and an evening safari. The morning safaris start around 0600 hours depending on the sunrise time and lasts for about 4.5-5 hours. After the morning safari, the guest heads back to the lodge/resort. You can freshen up, eat a quick lunch, relax for a bit and later head back in to the jungle for your evening safari. The evening safari lasts for about 3 – 3.5 hours depending on the time of sunset. Post your evening safari, you head back to the lodge for dinner and take the rest of the evening at leisure.
> Full Day Jeep Safaris: A full day safari is a jeep safari wherein your vehicle/jeep enters the park 15-20 minutes prior to all other safari vehicles. You spend the day within the national park, including eating lunch amidst the forest wilderness. You head back out 15 minutes after all the jeeps have exited the park post the evening safari. This type of safari proves more fruitful during pleasant months like October – November or even the fag end of February – March. A full day safari is also mostly taken by professional photographers who are following a particular species or documentarians who wish to film a specific family within the national park.
Canter Safari: Canter Safaris in Bandhavgarh National Park happen in all zone. This has encouraged tour operators to set up canters that can hold larger groups of people for longer safari tours.
No matter which safari type you pick, the experiences are open twice a day (early morning and late evenings), with each trail giving you something to remember as you complete it.
Reasons to Visit Bandhavgarh National Park
It is often said that it is the best place to see tigers in the wild in the world. The Tiger Reserve is spread over 1100 sq.km with a core area of about 440 sq.km.
A tiger safari tour in Bandhavgarh, with enthusiastic guides and drivers is a thrilling experience – the routes taken by the tigers of old are taken to this day by their offspring and one can learn about tracking these tigers through the eyes of the locals.
Though many might scoff at the idea of bird watching, Bandhavgarh National Park is an excellent birding destination with good visibility of birds. It has a very good population of vultures such as the Indian Vulture, White Rumped Vulture which roost along the cliffs. The Asian paradise flycatcher, Golden Oriole, Indian Pitta as well as the sight of the not so common White-capped Bunting.
Things to Do in Bandhavgarh National Park
Tiger Safari Tours: When in Bandavgarh, the most activity to do is taking a Tiger Safari Tour. The tour can comprise of jeep safaris, walking safaris, canter safaris and even birdwatching safaris in various zones of Bandhavgarh national park. A driver and an expert naturalist will be accompanying you through these safaris and imparting ample knowledge about wildlife present in this park.
Places to Visit Near Bandhavgarh National Park
Come for the safari experience of a lifetime, Bandhavgarh is India's top national park for the unique medley of nature and cultural experiences on offer. Bandhavgarh National Park is a neighbor to some of the most breathtaking landscapes, man-made monuments and natural vistas.
Baghel Museum: Embark on a royal journey by visiting Baghel Museum near Bandhavgarh National Park. The place is a storehouse of the personal belongings of Maharaja of Rewa that have been kept on display here. One of the most striking attractions here is the stuffed body of one of the first white tigers that were spotted in Bandhavgarh National Park by Maharaja of Rewa.
Khajuraho: Khajuraho has the largest group of medieval temples that are adorned with numerous sculptures of extraordinary grace and delicacy, celebrating the stylized and refined courtly accomplishments of beauty, love and creative arts. Once the religious capital of the Chandela Rajputs, the temples of the city date from 950-1050 AD. A wall with eight gates encloses the entire area and two golden palm trees flank each of them. Originally, there were over 80 temples, of which only 22 are now remarkably preserved.
Panna National Park: One can easily call Panna the land of the biggest predators and waterfalls thumping the ground from dizzying heights. A diamond mine to India, this park has the amazing superpower to both thrill you and calm you. A boat ride on the Ken is all it takes to discover that the forest is indeed a gem hidden, harboring diversity in its belly, and protecting its land since the recent past of 2008. Due to its closeness to one of the best-known Indian tourist attractions in India, Khajuraho, Panna is slowly becoming a major tourist attraction. For those interested in history, the Fort of Kalinjar is a little over an hour drive.
Trip to Bandhavgarh National Park: FAQs
We recommend hot summer months to visit the park. The months from March – May are the most fruitful months when it comes to tiger sightings. The big cat sits for long hours close to water holes that are only few and far in between. The prey concentration along such water pools is also high during summer, therefore one might just catch the cat in hunting action.
Leave this to the experts. Contact us by dropping in an email on
[email protected]
with all your requirements and we will be able to book the perfect tiger safari experience for you!
One should spend a minimum of 03 nights in the national park. This gives you ample opportunity and enough time to visit all zones and do all kinds of safaris in the park.
Our efforts have time and again been recognized by all our guests on TripAdvisor. With reviews that are 100% genuine, you can read them here or head on to our official TripAdvisor page to browse through in detail.
"Excellent experience in all aspects of our trip to Bandhavgarh Tiger Reserve organized by Nature Safari India"
Our trip to Bandhavgarh Tiger Reserve was nothing short of perfect! A 100% of the credit goes to Nature Safari India and in particular I would like to give a shout out...
"Wonderful safari trip to India"
We just returned from a great safari trip to Khana National Park, Bandavgarh and Kaziranga organized for us by Nature Safaris. Everything worked as we planned and we have been taken great care by the agency. The quality of the ...
"Incredible trip organized to perfection"
Sharad arranged a 15 day itinerary starting in mid-April that included Banghavdarh, Kanha, Pench, Tadoba and Ranthambore. It took some time to finalize the itinerary as I kept asking if we could include one more thing, and ...