On Forsyth Trail : Satpura & Pench Tour
Tropical, Deciduous forests encapsulate the highly rich biodiverse region of the Satpura Mountain Range which left Captain James Forsyth spellbound as navigated these undulating montane forests on horseback.
At altitudes of close to 600m, the central highlands include Satpura and Pench Tiger Reserve, which are home to around 40 mammal species, 350 species of birds, and some of the most enthralling flora and fauna. Amongst the big Mammals on this tiger safari in India: the Royal Bengal Tiger, Indian Wild Dog, Leopard, Gaur, Sloth Bear, and the Indian Giant Squirrel are the highlights to look out for.
Sal Trees in Pachmarhi, Teak Trees and Mixed Forest with Scrub and large Grasslands are an ancient ground for wildlife, and is considered the origin of some of the oldest species to grace planet earth.
Most trusted name in Indian Wildlife for the last 30 Years
Experience the best of Indian wildlife that includes the Royal Bengal Tigers, Asiatic Lions, Black Leopard, Indian Leopards, Snow Leopards, Red Panda, Asian Elephants, and a plethora of reptile and bird species, with experienced naturalists while you stay at the best-selected premium wildlife lodges and hotels.
On Forsyth Trail : Satpura & Pench Tour
❯ Day 01 : Arrive New Delhi (Flight).
❯ Day 02 : New Delhi – Bhopal – Satpura (flight + 180 kms/3 hrs drive)
❯ Day 03 – 05 : In Satpura National Park
❯ Day 06 : Satpura – Pench (260 kms/5-6 hrs drive)
❯ Day 07 – 08 : In Pench National Park
❯ Day 09 : Pench – Nagpur – New Delhi (by road, 100 kms/4 hrs drive + flight)
❯ Day 10 : New Delhi – Fly Home
➤ Immerse yourself in the complete wilderness tiger safari India experience with the chance of witnessing animals such as Leopards, Sloth Bears, Tigers, Wild Dogs and Indian Giant Squirrels.
➤ Experience Indian wildlife on foot as this is one of the few parks in India that permits walking safaris in the core area of the Tiger Reserve.
➤ Witness a jaw dropping landscape as you take a tiger safari in India on this undulating track, offering enchanting views of streams, watering holes and gorges.
➤ Observe nocturnal animals such as leopards, civets, owls, nightjars and the rusty spotted cat on a Night Safari.
➤ Dive in to a birding paradise on a birding tour within Satpura and Pench National Park, with chances of seeing over 300 species of avifauna which include the Malabar Hornbill and the Indian Skimmer.
Feel free to get in touch with our team of wildlife experts and receive a free quote for your next safari holiday! You could also use this channel to request for a custom wildlife holiday package in India!
Day 01 : Arrive New Delhi (Flight)
Meet our representative on arrival at New Delhi International Airport. He will transfer you to the Hotel, assist you with the check in procedure, handover and explain all the travel related documents. Overnight stay at the Hotel.
Accommodation: The Roseate House, Aerocity or similar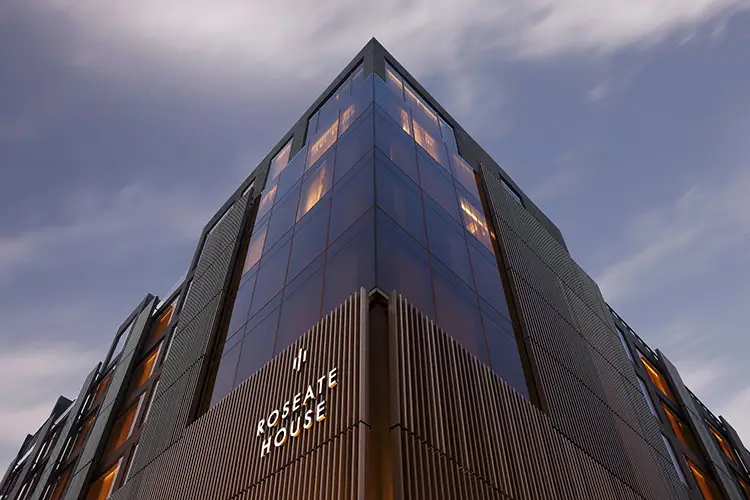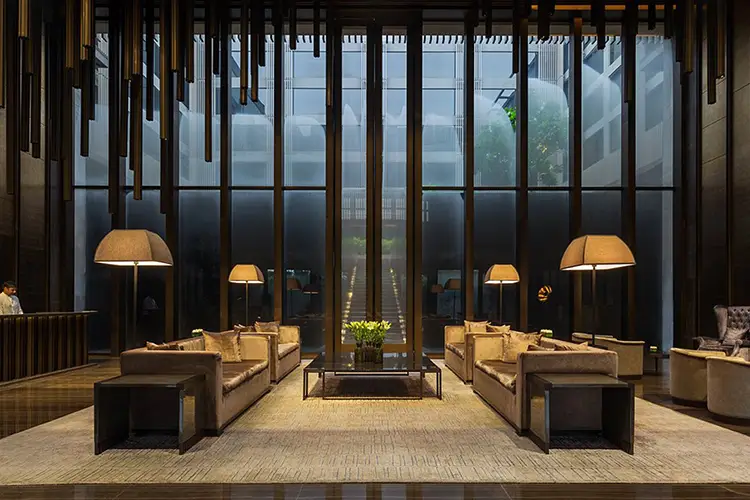 Day 02 : New Delhi - Bhopal - Satpura (flight + 180 kms/3 hrs drive)
Early morning, transfer to the airport to board your flight to Bhopal at 0555 hrs. You will be received by our driver at Bhopal airport at 0720 hrs who will drive you to Satpura National Park (180 kms, 3 hrs drive). On arrival, check into lodge. Post Lunch, Head out for your first Afternoon Game Drive. On return, Dinner and overnight stay at the lodge.
Accommodation: Forsyth Lodge or similar
Day 03 : In Satpura National Park
Satpura Tiger Reserve offers host of activities to choose from. Apart from the usual Jungle tiger safari, one can engage a variety options to spot wildlife. Whether its walking safari, a canoe through the Denwa River or a Night Drive through the buffer zone of the park, you're most certainly in for a thrill.
Satpura National Park is highly rich in bio-diversity. Its fauna comprises of Spotted Dear, Gaur, Tigers, Leopards, Wild Pigs, Wild Dogs (locally known as Dholes), Sloth bear, The Rusty Spotted Cat, Sambar, The Four Horned Antelope (Chowsingha), Pangolin, Marsh crocodiles, Langurs etc. The Indian Giant squirrel is a special feature of Satpura National Park as leaps from one canopy to another. Sighting of Leopards, Gaurs, Wild Dog, Sloth Bear is good in comparison to other National Parks of Central India. Bird-watching in Satpura National Park is also a major highlight with over 300 species of birds. Here, you are likely to encounter a variety of birds during your stay and tiger safari.
Tiger sightings on the other hand may not be as many when compared to Bandhavgarh, Kanha or Pench National Parks, However, they are on the rise, with tigers getting fairly comfortable in recent years.
Meals and overnight at Jungle Lodge.
Accommodation: Forsyth Lodge or similar.
Day 04 : In Satpura National Park
Morning tiger safari in Satpura national park and later we will depart for Churna Camp through the national park with your lodge naturalist between 2:30 and 3:30pm. On this drive guests have a chance to see Leopard, Sloth Bear, Indian Giant Squirrel, Four-Horned Antelope, Indian Munjac and other herbivores. If lucky, there is also chance of seeing Wild Dogs and possibly a Tiger. On arrival at Churna Camp, guests will be welcomed with refreshments and dinner. Food here is basic and vegetarian as the area lies within the core area of the Tiger Reserve. At the camp you have a good chance of seeing nocturnal beings like owls and the Indian flying squirrel.
Overnight stay at the forest guest house at Churna Camp.
Day 05 : In Satpura National Park
On this day, wake up before the crack of dawn and depart for the national park. As you make your way through the encapsulating forests of Churna, there is a site with pre-historic rock paintings worth visiting. Some of these paintings range between 100 to 10,000 years old. On your way, stop for breakfast at a forest camp. Post breakfast, depart for the Lodge as you continue your tiger safari through the national park. Post Lunch at the lodge, head out for either afternoon boat safari, canoeing, or walking safari.
Overnight stay at the lodge.
Day 06 : Satpura - Pench (260 kms/5-6 hrs drive)
Morning game drive to the national park post which, you will check out from the lodge and depart for Pench national park (260 kms/5-6 hrs drive). On arrival, check into lodge at Pench National Park.
Dinner and overnight stay at the lodge.
Accommodation: Taj Baghvan or similar
Day 07 - 08 : In Pench National Park
Breakfast and lunch at the hotel. Morning Jeep tiger safari to the National park and afternoon visit to Khursapar zone of the national park.
Pench welcomes you with open arms and without conditions. This park is located between four different Mountain Ranges – Aravali, Vindhyanchal, Satpura and Maikal. The tracks are smoother, the trees are thicker with dense undergrowth, and perhaps this is the main reason why the herbivore population here is larger in size compared to most of Central India's National Park.
The skies are home to birds of prey and their distinctive calls. Pench National Park, nestling in the lower southern reaches of the Satpura hills is named after Pench River which flows from north to south through the National Park. It is located on the southern boundary of Madhya Pradesh, bordering Maharashtra.
In 1992, Pench has been included under the umbrella of "Project Tiger" as the 19th Project Tiger Reserve.
A total of 758 Sq. kms of this Southern Indian tropical moist deciduous forest has its extent mingling with the tropical dry deciduous teak. The area is has several intertwinging streams and 'nallahs' , most of which are seasonal. Though, the Pench River dries up during April end, a number of water pools locally known as 'dohs' are found which serve as water holes for the wild animals. The Pench Reservoir at the center of the park is the only major water source during the pinch period.
As the prey concentration is high along the Pench River, tigers usually inhabits and frequent this belt. Leopards generally operate in the peripheral areas but are frequently seen in the deep forest in recent years. Jungle cats are commonly seen. Leopard cats, small Indian civets and palm civets are some of the attractions that are rarely seen.
In Pench, Cheetal, Sambar, are commonly seen grazing on the open sites on roadsides and banks of river & reservoir. Jackals can be seen in search of food throughout the park. Packs of upto 15 or more wild dog can be seen near Chhedia, Jamtara, Bodanala and Pyorthadi areas of the Reserve. Herds of gaur can be spotted near streams and bamboo patches, mostly in summer months. Sloth bears occupy the rocky areas and favour mahua, bel infested forest tracts. Chinkara, though present in small numbers, is found in open areas around Turia, Telia and Dudhgaon villages.
Dinner and overnight stay at the lodge.
Day 09 : Pench – Nagpur – New Delhi (by road, 100 kms/4 hrs drive + flight)
Morning game drive to the national park and post lunch, transfer to Nagpur airport to board your flight at 1720 hrs to arrive in New Delhi at 1900 hrs. Meet our representative at the airport and transfer to your hotel. Overnight stay at the hotel in New Delhi
Accommodation: The Roseate House or similar
DAY 10 : New Delhi - Fly Home
After breakfast, transfer to the International airport to board a flight back home or to an onward destination.
Our efforts have time and again been recognized by all our guests on TripAdvisor. With reviews that are 100% genuine, you can read them here or head on to our official TripAdvisor page to browse through in detail.
Tiger Safari with Sanjay Gupta and Nature Safari India.
We just finished the first half of two tiger safari tours in India. The first was on the Banhavgar National Park. Our guide was Sanjay Gupta, who had 25 years of experience in the park and with the tigers. He was wonderful, sharing his experience and knowledge throughout our three full days together. He was definitely a highlight of our trip, as a great guide makes for a great experience, whether you see tigers or not! And we did see tigers...
Excellent Experience with Nature Safari India.
Nature Safari India organized our private 2 Weeks Safari in Central India plus a couple of Sightseeing and we are very happy to having choose this agency. I found them on the responsible tiger tourism association (TOFTigers) and I liked them from the very first contact. From the first email more than two years ago to the end of our trip in April 2022, the service was great, the selection of the itinerary, Parks, lodges and guides was perfect...
Excellent Experience with Nature Safari India.
Deepkul and the Tiger Safari India team put together an incredible experience for us in Kanha and Bandhavgarh. All the details were taken care of as per our preferences and budget including transportation, food, lodging, and our amazing safari guides. Deepkul was easy to communicate with and always quick to respond to any questions before and during our trip. Highly recommend!
On Forsyth Trail : Satpura & Pench Tour
Extend your stay in this enchanting country with any of the below extension tour packages. It could be an ensemble of culture, wildlife or even historic walks! Choose from whatever satiates the soul. Our travel specialists are here to customize the ideal itinerary to your liking.