Best national parks for Tiger Safari in India
Many people think that some tiger safari parks in India are better than others for a tiger safari India journey. However, India is a geographical prowess of multilateral biodiversity, and each of its best national parks for tiger safari in India paints a different story, therefore it is not wise to say that one is better than the other. In this blog, we will be covering the most visited tiger safari parks in India like Corbett National Park, Kanha National Park, and Ranthambore National Park, and listing down a few points under each to help you make a more cohesive decision while choosing your next jungle holiday!
1. Location
Corbett National Park is one of the best national parks for tiger safari in India located in close proximity to the capital of the country, New Delhi. Therefore, it is one of the most easily accessible tiger safari parks in North India. If one chooses to land at the Indira Gandhi International Airport in New Delhi (very well connected to all major International Airports round the world and other domestic airports in India), reaching Corbett will just be a 5-hour drive. Not only New Delhi, but this tiger safari park in India is also well connected with cultural destinations like Agra (Taj Mahal), making it an easier choice for people who wish to tour the country for both wildlife and culture.
2. Staying in the jungle
When visiting Corbett, one can choose to stay within the forest in a 100-year-old rest house, within the Dhikala Zone. To read more about the same, please read our blog on the same here. Although basic in nature, its location is brilliant to say the least. Dhikala is one of the most prominent zones for wildlife lovers and photographers who visit Corbett. It showcases all of nature's wonders – the crystal clear waters of the Ramganga river and its tributaries along with the foothills of The Great Himalayas. The landscape is awe-inspiring and the wildlife just adds to it.
3. Wildlife in Corbett
Coming to wildlife in Corbett, it is no doubt that this tiger safari park is one with the highest tiger densities per 100 sq. Kms (15 tigers). However, it's not only Tigers in Corbett, but the magnificent Asian Elephants, Ghariyals, Crocodiles, Yellow-Throated Martens, King Cobras, and more than 500 species of birds, that make it a wholesome experience.
4. Birdwatcher's Paradise
A bird watcher's paradise, Corbett in itself homes close to 550 species of birds. Some of the prominent species found here are the Himalayan Rubythroat, Chestnut Headed Bee Eater, Long Tailed Broad Bill, Kaleej Pheasant and more. It also connects wonderfully with other big birding destinations in northern India like Nainital and Pangot. You can view our birding tour comprising the three destinations here.
1. Location
Second, in the list of best national parks for tiger safari in India, Ranthambore is located in the western state of Rajasthan. Primarily a dry deciduous forest, Ranthambore is the land of the Royal in all forms. It is located in close proximity to major cities in northern India like New Delhi, Jaipur, and Agra. Its easy connectivity to India's Golden Triangle makes it one of the most toured tiger safari parks in the country.
2. Staying in Ranthambore National Park
Since the Ranthambore tiger safari park is located in the royal state of Rajasthan, all your lodging options are blessed with some regal options. We personally recommend the Oberoi Vanyavilas in Ranthambore National Park. This resort is a luxury tented accommodation inspired by the opulent caravans of the Royal Families. A fine restaurant serving authentic Rajasthani food and international cuisine, combined with spa experiences customized to suit your needs, this resort truly encapsulates the grandeur that is this tiger safari park.
3. Wildlife in Ranthambore
Ranthambore National Park has successfully fought the battle against poaching. Today, it proudly boasts of immense tiger sightings daily and is also home to a variety of bird species. Some of the prominent wildlife found in this tiger safari park is the Royal Bengal Tiger, Sloth Bear, Jungle Cat, Leopard, Honey Badger, Indian Grey Hornbill, Oriental Buzzard and more. Ranthambore National Park is famous for its Tiger sightings.
Over the last decade, due to strict conservation efforts tigers have become more active during daylight. This tiger safari park has been home to some legendary Tigers – from Ghengis Khan, to Noor, then Machli, T17, T24, and now T19. One of the greatest encounters ever captured while on Ranthambore Tiger Safari is of a tiger battling a crocodile over a Sambhar deer carcass and successfully taking possession of it in broad daylight.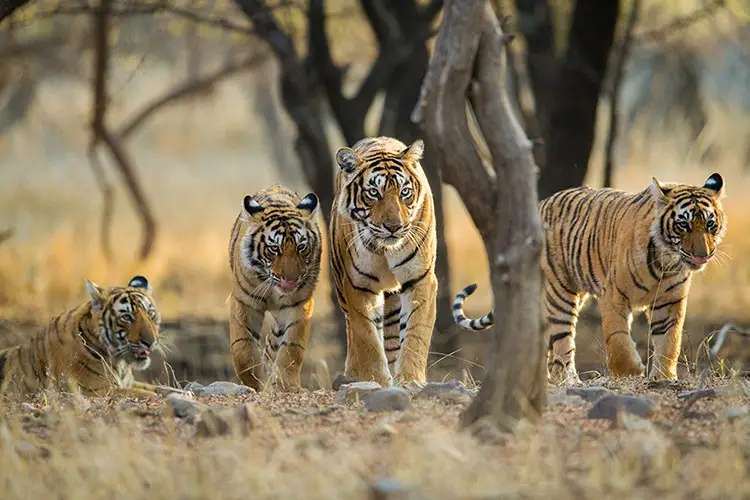 4. Tiger Safaris and Zones in Ranthambore
This is one tiger safari park where zones are numbered from 1-10 and not named. The one massive advantage Ranthambore has over other tiger safari parks is that a few safari zones are open throughout the year. It makes Ranthambore an easier choice for travelers who aren't very flexible with their travel timings and still choose to take a Tiger Safari Tour. This Tiger Safari Park conducts regular morning tiger safaris, afternoon tiger safaris, full-day tiger safaris, and an additional half-day tiger safari in India, rules for which change each year.
1. Location
A forest that inspired Rudyard Kipling to pen his Nobel-winning piece of literature "The Jungle Book", third in the list of best national parks in India, Kanha National Park is beautifully set amidst the picturesque Sal forests of Central India. This tiger safari park is a little further away from the aforementioned two, however, I believe it is completely worth it.
To reach Kanha, one can take a train or flight from New Delhi to Jabalpur or Raipur and later drive for approximately 4.5 hours to cover a distance of 280 kms to reach the jungle. New Delhi is well connected by trains from around India and also by flights internationally as well as domestically. The advantage to traveling to Kanha is that you can combine your safari here with other tiger safari parks in Central India, like Bandhavgarh National Park, Pench National Park and even Tadoba National Park.
2. Staying in Kanha National Park
This tiger safari park is surrounded by some of the most luxurious yet boutique lodges – Taj Banjaar Tola, Singinawa Jungle Lodge, Chitvan Jungle Lodge, and more.
3. Wildlife and wildlife conservation in Kanha
It is no doubt that Kanha is booming with wildlife. It has become the home ground for some of the biggest male tigers in India like Munna, Umarpani Male, Chota Munna, Limping Male, Kingfisher or Rajaram, Garhi Male, Bheema, and more. However, it is not just tigers that proudly call Kanha their home. This tiger safari park, in fact, has been the driving force behind numerous successful conservation stories in Indian Wildlife.
Kanha was responsible to bring back the Hard Ground Swamp Deer or Barasingha from being almost extinct. Also called the "Jewel of Kanha", these Barasinghas were put under special enclosures to encourage breeding and avoid extinction. The result was quite evident when their population skyrocketed.
From merely 66 in number, Kanha was now home to 600-700 Barasinghas. The department's efforts paid off when Kanha was awarded the best tourism-friendly national park, by the Government of India.
Other than the Barasingha, this tiger safari park is also homes to populations of the Indian Gaur (Bison), Chital, Sambar Deer, Sloth Bear, Paradise Fly Catcher, Malabar Pied Hornbill, Tickell's Blue Flycatcher, and more.
Your safari permits in Kanha will be booked by us 120 days prior to your safari date. This tiger safari tour park conducts full-day safaris, afternoon safaris, and morning safaris. In full-day safaris, one enters the jungle 15-20 mins prior to all other safari vehicles and exits the jungle 15-20 mins after others leave. Another advantage of taking this full-day safari in Kanha is that you can carry your lunch inside the jungle and lay out your feast on your jeep bonnet.
You can enjoy a hearty meal listening to the call of the wild!
Concluding this comparison on a positive note, the three tiger safari parks spoken of above are all brilliant, and taking a tiger safari in each of these will offer a different experience. While Corbett will mesmerize you with its landscapes and Asian Elephants, Ranthambore will engulf you with its opulence. Kanha on the other hand will introduce you to the biggest wildlife and conservation experiences in India. Therefore, there is no right or wrong while chase a tiger safari park.
If you still wish to know more, you can always write to me at [email protected]
—Ishana Vats