In this post, we will be discussing on "Elephant-Back Wildlife & Tiger Safaris in India". The Asian elephant is the largest land mammal on the Asian continent. They inhabit dry to wet forest and grassland habitats in 13 range countries spanning South and Southeast Asia. While they have preferred forage plants, Asian elephants have adapted to surviving on resources that vary based on the area.
Even though their size is mammothian, the Asian elephants are extremely sociable with their kind, forming groups of 6-7 related females, that are led by the oldest female in the clan, the matriarch. They even tend to join other herds to form larger ones, although this is short-lived. Unlike their African counterparts, Asian Elephant herd sizes are significantly smaller.
In Asia, and more specifically South East Asia, people have had a close association with elephants for centuries. The Asiatic Wild Elephant not only looms large in the history of Indian wildlife but also in the ancient traditions and religions of the country, figuring in the Hindu mythology as Ganesha – the elephant-headed God.
An Elephant-back Tiger Safari in India
Wildlife and Tiger safaris in India vary with varying degrees of adventure. You have jeep safaris, canter safaris, walking safaris, and even elephant-back safaris for people who wish to explore the jungle from a different perspective. Escaping through the tall jungle grass is only possible on elephants, giving you the opportunity to view wildlife from a completely different angle than everybody else.
Elephant-back safaris involve elephant back rides into the thick jungle, with a mahouth (the person who guides and instructs the elephant). These are generally combined with a full-day jeep safari excursion into the forest. A maximum of 3 people is allowed to hop on board an elephant and take this experience.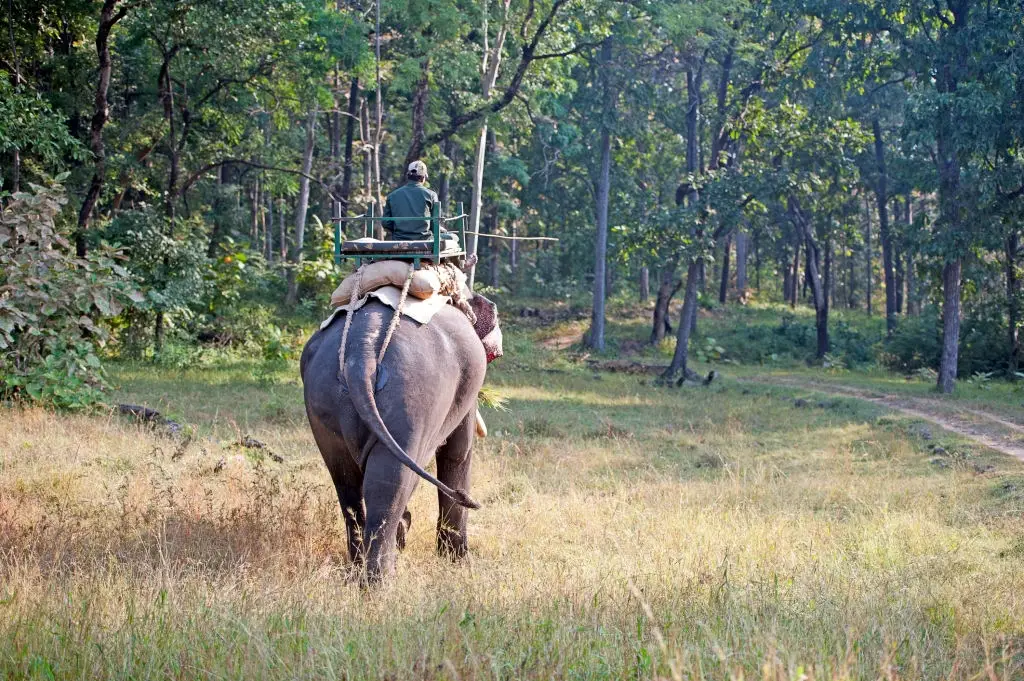 National parks in India that offer elephant-back safaris
The following national parks in India offer Elephant-back Safaris:
1. Kanha National Park:
Kanha is an illustrious Sal jungle in Central India. Primarily a tiger reserve, Kanha is popular for its dense foliage and varying wildlife. You can explore this via special elephant-back safaris. Elephant safaris help you get to places in the jungle where a jeep can't maneuver. The elephant helps you sight and track tigers, while viewing them at close proximity.
Of the four core safari and tourism zones in Kanha, one can undertake an elephant-back safari in three, namely: Kanha, Mukki and Sarhi. In all three zones, elephant-back safaris are a part of full day safari tours. During a full day safari, one enters the national park 20 minutes before all other vehicles do. You get a chance to stay within the national park even during lunch hours when all other vehicles exit for the morning. Later, you switch your safari vehicle for an elephant, and so begins the adventure of an elephant-back safari. This excursion lasts for about 03 hours, after which you switch back to the jeep and exit the national park.
Other than the above, Kanha also provides 01-hour exclusive joy rides on Elephants.
2. Bandhavgarh National Park:
Similar to Kanha, Bandhavgarh offers Elephant-back Safaris as a part of your full-day safari trip inside the jungle.
3. Kaziranga National Park:
Kaziranga, a hidden gem in the eastern state of Assam, is known for its population of Bengal Tigers, One Horned Rhinos, Asian Elephants and Asiatic Water Buffalo. To view such diversity, Kaziranga does offer Elephant-back safaris in 2 out of the 4 safari zones, namely: Central or Kaziranga Range and the Western or Bagori Range.
The starting point of the central range is the Mihimukh riding tower. Guests can take an elephant safari in this range for a maximum of one hour. Safari rides pass through the Dagland and Foliomari areas. The designated safari routes for the central range is Mihimukh – Kathpora -Daphlang – Diffolu River Bank -Mona Beel – Karasing & back.
For the western range, the starting point is at Bagori headquarter. Usually, guests prefer to take an elephant safari in the western zone where they will have a chance to get a close view of the one-horned rhinos. The designated safari routes: Ongabeel -Rouman – Rajapukhuri – Monabeel & back.
Why do we not recommend or promote elephant-back safaris to our guests?
Our conscious effort has always been to make guests aware of the circumstances that these elephants are put in or go through when they are domesticated for the purpose of Elephant-back Safaris. In a bid to satisfy wildlife who wish to view the jungle and its inhabitants at close quarters, elephants have suffered the brunt of unwanted domestication, poor shelter and unsanitary living conditions for a long time.
In a recent case, the decision of stopping elephant-back safaris in Jim Corbett National Park by the Uttarakhand High Court, paved the way to stop such animal abuse and build awareness around the importance of Elephants in the wild. This decision came as a result of a Public Interest Litigation (PIL) filed by the chairperson of a Ramnagar-based NGO, Himalayan Yuva Gramin Vikas Sanstha, Mayank Mainali in 2012. He said that, "management of domesticated elephants is an issue because they are not treated well. The tourists should operate vehicles wherever there are roads in the park." Citing breach of Wildlife Protection Act, 1972 and the Prevention of Cruelty to Animals Act, 1960, Uttarakhand High Court has banned the commercial use of elephants for joy rides and commercial safaris.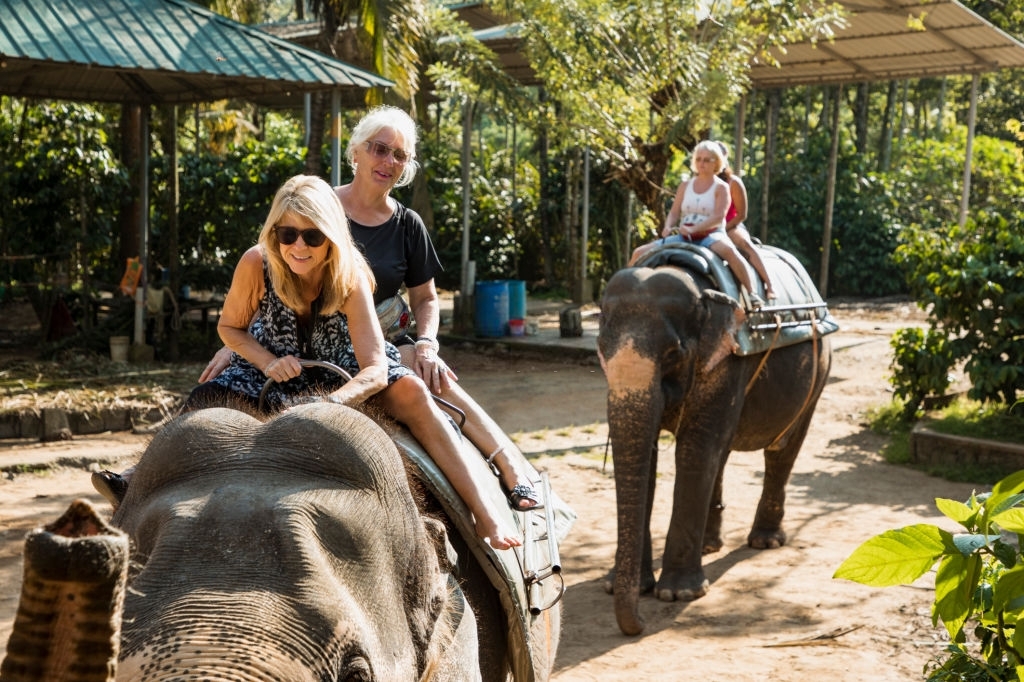 As wildlife tour operators, our responsibility goes beyond guest satisfaction. It extends to protecting our wildlife and their habitat, ensuring sustainability, and improving the discipline of wildlife tourism in India. We therefore always request our guests to refrain from doing elephant-back safaris in national parks. It is not only inhuman to tie down a wild animal, but also disheartening to see a species as gargantuan and enigmatic as an Elephant, being used as a mode of transportation within the jungle, when there are actual jeeps taking tourists for safaris.
The importance of Elephants in the Wild
Elephants help in maintaining the integrity of forest and grassland habitats. They aid the forest's health in ways that we might consider meager, but are in fact, some of the most important processes orchestrating through the jungle's ecosystem. For instance, it might seem difficult to imagine elephants delicately tending a garden, but these pachyderms may well be the world's weightiest horticulturists.
Elephants both in Asia and Africa eat abundant amounts of fruit when available; seeds pass through their guts, and after being expelled, sprouts a new plant if conditions are right. This process is known by ecologists as 'seed dispersal', and scientists have long studied the 'gardening' capacities of monkeys, birds, bats, and rodents. Recently, however, researchers have begun to document the seed dispersal capacity of the world's largest land animal, the elephant, proving that this species may be among the world's most important tropical gardeners.
Their large size also enables the creation of pathways through dense forests along which they travel, which then creates access for other wildlife as well.
Alternatives to an elephant-back safari
Elephant safaris can easily be substituted with regular canter and jeep safaris. We recommend exclusive jeep safaris to all our guests. The advantages of jeep safaris over elephant-back safaris are:
Fixed Timings: Fixed timings for safaris help regulate wildlife viewing in a jungle. On any given day, during a time slot, whether morning or evening, only a set number of jeeps are allowed to enter the park. This prevents overcrowding during sightings and ensures that we maintain a safe and respectable distance from wildlife.
Regular Patrolling: When jeeps enter the national park during fixed timings ( for 4.5 – 5 hours in the morning and around 3 hours in the evening) it ensures the jungle's constant surveillance. Catching unethical activities becomes easier and anybody who commits or is trying to commit an illegal activity within the premises comes under the radar.
More Economical: Jeep safaris are more economical when compared to elephant-back safaris. Elephant back rides are best for professionals who are filming a documentary or are following a particular tiger. With the money spent on an elephant-back safari, one can easily extend their jungle stay for 3 days and do 6 extra and exclusive jeep safaris, giving them a lot more chances of viewing wildlife.
Specific Routes: Unlike an elephant-back safari where the elephant cuts through dense jungle foliage allowing you to view wildlife at close quarters, which could also disturb animals at times, jeeps follow a designated route within a specific zone, thus maintaining the distance and peace required to regulate wildlife tourism.
Therefore, we, at Nature Safari India, would sincerely request our guests to keep in mind the above when booking elephant safaris or elephant back joy rides in national parks. It is their jungle to live in and ours to explore. Let's not exploit this privilege and take over something that rightly belongs in the wild.