About Edward James Corbett
On July 25, 1875, James Edward Corbett was born in Nainital, Uttarakhand's Kumaon district. He was the eighth child of his parents, William Christopher and Mary Jane Corbett, and grew up in a large family of 13 children. His parents had moved to Nainital in 1862 after Christopher Corbett had quit military service and been appointed the town's postmaster. He was a hunter, tracker, conservationist, and author who wrote books like "Man-Eaters of Kumaon" and "The Man-Eating Leopard of Rudraprayag" about his hunting experiences and true-life adventures.
He also worked for the welfare of the people of the Kumaon and Garhwal region in the state of Uttrakhand today, adopting a village called Choti Haldwani and assisting them with their survival and livestock. He was a colonel in the British Indian Army and was frequently called upon by the Government of the United Provinces of Agra and Oudh, now the Indian states of Uttar Pradesh and Uttarakhand, to kill man-eating tigers and leopards that preyed on people in nearby villages in the Kumaon-Garhwal Regions.
The Corbett trail: Kaladhungi & Ayarpatta  trail
He was fascinated by the forests and wildlife surrounding his Kaladhungi home from a young age. It was then that he developed an interest in animals, and he was able to identify the majority of animals and birds, simply by their calls. These little explorations made him an excellent tracker of wildlife and helped in hunting the man-eaters or the game.
Choti Haldwani
Chhoti Haldwani is a small village that was once owned by Jim Corbett, a conservationist. Even after he left India, he purchased the small hamlet of Chhoti Haldwani. He made his tenants the legal owners of their land and continued to pay land taxes on their behalf. Corbett attempted to develop agriculture in Chhoti Haldwani so that the villagers would have enough to eat while also earning money from the surplus. Corbett tried several horticulture experiments, including bringing hybrid banana and large kernel maize seeds from Africa and even attempting to grow coffee. The waterways established by Corbett help to irrigate the fields and orchards of Chhoti Haldwani and are still in use today. Some key places to visit around Choti Haldwani are:
The stone wall: Around Chhoti Haldwani was one of the many ideas that Corbett had to protect the crop from wild boars and other animals. It took 10 years to construct the wall over a distance of 9 km.
The Chaupal: It is a traditional community structure in the villages of the Kumaon. These were used for village get-togethers and meetings.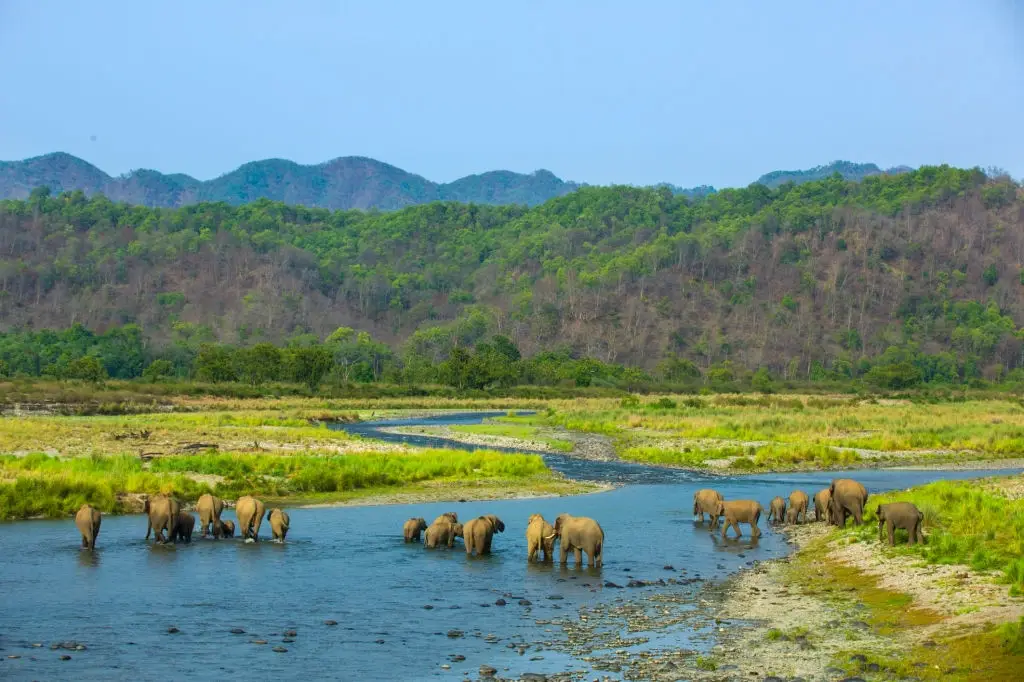 Nainital and The Ayarpatta Trail
He owned many houses Snow Dun, Newberry Lodge, Melivile compound, Duddley Grove, Mary Villa, Woodstock, and the lime kiln in Nainital. Most of the houses fall in Most of the houses in Nainital are on the Ayarpatta Hill since it was regarded safe after the landslide in Nainital in 1880. Not only are these houses associated with Jim Corbett but are also a reflection of the architecture during the British. The usage of material, design element, highlight the fact that they are climatically suitable for habitation. The houses are warm in winters and cool during the summers. Some key places to visit around Nainital are:
Gurney House: Built in 1871, Jim Corbett's mother, Mary June Corbett of land. The cottage was constructed in 1880 with the dismantled material of their earlier house on Alma Hill. It was inherited by Maggie, Jim Corbett's sister, after the death of their mother in 1924. The family lived here for most of their lives. It was also Corbett's summer home.
Mount Pleasant: Corbett lived in this house until 1934. The Oak forest comes right up to and surrounds the house. Wild creatures still visit the house.
The Corbett Fall: Corbett Fall is located at Nayangaon 5 km from Chhoti Haldwani by road.
Kaladhungi Nahar Trail
Kaladhungi, a small Bhabhar village in the foothills of the Himalayas at an elevation of 300m is flanked by the Boar river on one side and the various tributaries of Nihal on the other.  Kaladhungi gets its name from Kala (black) and Dhunga (stone), which was available here and used to smelt iron. In 1922 Jim Corbett built this Irish-styled cottage spread over fourteen bighas for himself and his family. Before leaving for Kenya in 1947, he handed this house to a friend with the hope of returning to India.
However, Corbett could never come back and the property was later sold to the forest department to be converted into a museum in 1967 as an homage to the great conservationist. It is managed by the Corbett Tiger Reserve. The museum cum Interpretation center has been renovated and thematically narrates the life and times of Jim Corbett.  It shows his association with people and his contribution to conservation. It also has some memorabilia associated with Jim Corbett.  Some key places to visit around Kaladhungi are:
Arundale: It was built by Jim's father Christopher William Corbett, who was the postmaster of Nainital, as a summer home for his family of 14 children. The 10 acres of land were arranged by Henry Ramsey. It was a colonial-style bungalow built in stone with large rooms.
Farmyard: The Jungle right behind 'Arundale was named "Farmyard' by Jim Corbett. It was a typical terai foothill forest with trees of up to fifty feet in height and thick undergrowth. It had Deer, Cheetal, Sambhar, Barking Deer, Antelope, Nilgai, Black Buck, Wild Dogs. Wild Boar, Striped Hyena, Jackals complemented with elephant, leopards, and tigers. For the young Corbett, the Farmyard offered a plethora of experiences.
The Foundry: It is a heritage structure that was once used to smelt iron from locally available ore.
The Forest Rest House: It was built in 1916, and had the privilege to host Lord Linlithgow, the Viceroy of India when he came here for his hunting trips arranged by Jim Corbett between 1937-1942.
The Kaladhungi Nahar: The canal was built over a century ago by Henry Ramsey, then The Commissioner of Kumaon. It is an engineering marvel, running throughout 8.6 Km and irrigating twenty villages.
Jungle Studio: The canal is where Jim Corbett chose to make his 'jungle studio'. Corbett took to photography in 1938.  It was here that he captured wild tigers, seven in number, in a motion picture for the first time.
10 Facts about James Edward  Corbett
James Edward Corbett remained unmarried throughout his life.
Corbett only had one hunting companion Robin, his Spaniel Dog
Corbett received the Kaisar-i-Hind Medal in the 1928 New Year Honours and was made a  Companion of the Order of the Indian Empire in the King's 1946 Birthday Honours.
Corbett shot man-eating Tigers of Champawat, Chowgarh, Mohan, Kanda, and Thak
Corbett's fourth book, Jungle Lore, is considered his autobiography.
Jim Corbett was also addressed as 'Carpet Sahib' by the people of the Garwal and Kumaon region
Choti Haldwani is a small village bought by Jim Corbett and also helped to construct a 9 Km long stone wall around Choti Haldwani to protect the livestock of the people of the region
Corbett stayed at many houses during his stay in India like The Arundale, The Gurney House, The Irish style house of Kaladhungi constructed in 1922  is now a museum.
After 1947, Corbett and his sister Maggie left India and shifted to Nyeri, Kenya
In 1968, one of the five remaining subspecies of tigers is  was named after him: Panthera tigris corbetti, The Indochinese tiger
Read more about the Jim Corbett National Park in our Jim Corbett Tiger Safari Guide
Hunting career
Between 1907 and 1938, James Edward Corbett is known to have hunted a total of 33 man-eaters, tracked and shot 19 tigers and 4 leopards.  It was also estimated that these man-eater tigers and leopards were responsible for the deaths of over 1200 people. Some of the most famous and thrilling hunting experiences are of the Champawat tiger and the Leopard of Rudraprayag each responsible for 400 and 125 deaths.
Corbett shot the most sought-after big-game trophy in the United Provinces between 1920 and 1930 "The bachelor of Powalgarh" tiger which measured 10'7'' over curves.
James Edward  Corbett – Journey hunter to conservationist
He was inspired by his friend Frederick Walter Champion, the first wildlife photographer and conservationist in UK and India. Frederick Champion worked as Deputy Conservator of Forests after he joined Imperial Forestry Service in the United Province of Agra and Oudh. Champion criticized the trophy or sport hunting.  Champion was a passionate conservationist, he preferred shooting wildlife with a camera in the Sivalik Hills and pioneered camera trapping: in the 1920s he developed cameras triggered by tripwires.  He used a flashlight to capture dozens of incredible night-time photographs of wild tigers, leopards, sloth bears, dholes, and other wildlife.
He noticed that with good photographs of tigers, they could spot differences between the tigers by observing the unique stripes of every Tiger.  It was Champion's book "A camera in Tiger-Land" that gave him the idea to film the tigers using a cine camera by the daylight. Corbett realized that shooting with a camera and shooting with a rifle, and the beneficial effect it has on our rapidly decreasing stock of tigers, the taking of a good photograph gives far more pleasure to the sportsman than the hunting of a trophy; and further, while the photograph is of interest to all lovers of wildlife, the trophy is only of interest to the individual who acquired it. Corbett realized that habitat was the critical need for protecting tigers and identified them as the keystone species for maintaining the ecological balance. Corbett also brought attention to decreasing population of Tigers in India by writing six books about his experiences as a hunter, using the draw of his adventures to make people aware of Tiger and what a charismatic species it is.