Kanha National Park opened on 1st October, and my first safari was on the 2nd. After roaming for around two hours we were having breakfast in Sondar camp. My guide heard a frantic Sambar's alarm call from Baiga nallah side and said, pack up.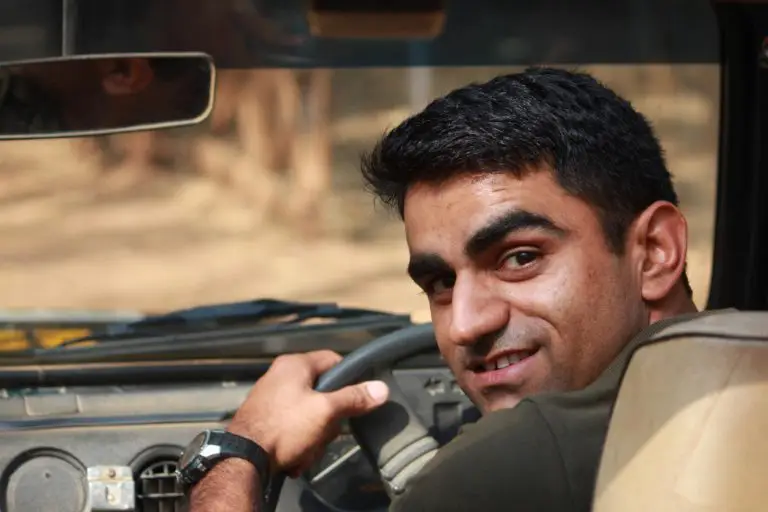 Without wasting time we rushed towards the nallah, parked our vehicle on Moala road and within five minutes a huge male came on road and started walking in front of us. Some guides said, it's Umarpani and some said it is Link 7 but without delay I recognised it to be the Kingfisher male with a full belly and bulky size. First sighting of the season after the break of 3 months is always rejoicing.
It is very difficult to know tiger movement just after monsoon, as some Tigers change their territory while some migrate to other areas. It takes time to understand the Tiger movement after three months of monsoon break.
This season I did 356 drives just like the last season. Like last year this year has also been a great year for tiger sightings. There has been a slow but steady growth of Tiger sightings over last 10 years. Reason is simple. Since 2012 the Tiger show on Elephant back stopped. This resulted in compulsory tracking by the Jeep wallahs. Earlier they used to just wait for the Tiger to be tracked by the Mahouts, an once tracked they would park their vehicle in that area. But now, they must continue to track if they want their guests to be happy.
Mukki zone in Kanha National Park
Mukki in particular has been the pick of the zones in Kanha National Park in terms of tiger sightings. Four big males are beautifully co-existing with five females in a relatively small area.Mukki zone is the most sensational zone of the park in term of tiger sightings. It is quite surprising to see four male Tigers fitting in such a small zone. After seeing some fights last season between these males everyone was afraid that few of them might now survive the monsoon. But they all showed up in October to the pleasant surprise of everyone. Mahaveer female was seen with four tiny cubs, no doubt they are sired by Kingfisher male.
Big males of Mukki zone in Kanha National Park
Bheema, Kingfisher, Link 7, and Umarpani males are the big four of Mukki. Bheema looked more confident this season as he stared expanding his territory while Link 7 seemed more wiser. This season there was a fight between Bheema and Umarpani in January. Bheema was in mating with Dhawajhandi female (daughter of BT female) in April. But Link 7 had mated with her a few days back, so he came and fought with him. Link 7 had skirmishes with all three males since he was seen with some minor injuries most of time. Choti mada has also three small cubs fathered by Umarpani male. Both male looked very protective, most of time they were with their female and cubs.
Kingfisher male has gained quite a lot of muscle mass, and territory. But he is a warrior who avoids any confrontation. When Link 7 came to Umarjhola talao, Kingfisher pushed him away and stayed there for three days to ensure that he does not come back. Umarjhola female had mated with Link 7 earlier in October and in June she was seen with Kingfisher male. It was quite surprising to see Bheema in Minkur anicut which is Umarpani's main area. Minkur had been a place where all four male Tigers were sighted in spaced out time zones. There was one more female sighted in district line having cubs but no one saw the cubs. Hence it is difficult to say how many she has. Overall for Mukki this was a great season as expected.
Kanha zone in Kanha National Park
Kanha hd a tough last season in terms of Tiger sightings. But it showed sparks of revival with Link 7 female frequently sighted with her four cubs.  Surprisingly all cubs are male.
Neelam, the collared tigress was sighted with two cubs last season. She lost one male cub in starting of the season to a male tiger and towards the end of season she lost the second cub also. The second cub was killed by Link 8 female (half sister of Neelam). A male called Bajarang (Bheema's brother) has taken over the Kanha meadow this season and indulged in a fight with Bamnidadar male in December. He proved his supremacy and Bamni Dadar male had to leave the meadow. The queen of Kanha meadow Umarpani female was not sighted this season, she had successfully raised so many cubs in Kanha and was old enough to survive. She has left her legacy behind in a male with huge head in Mukki, known as Umarpani male. The other male called red eyed was also not sighted this season who used to visit meadow frequently.
Kisli zone in Kanha National Park
It is always interesting to see new tigers in park. This season a male was sighted between Nakti ghati and district line. After a few days he moved towards Kisli and was seen on Chimta camp-Dhawajhandi road and then sighted in Raja Kachar area. As per the forest officials, it was a transient male who came from Supkhar and was trying to settle down in the area. As Mukki zone already had four males so he moved in Kisli zone and by the end of the season he had occupied part of Kisli. He was seen in a fight with Budbudi female who was nursing four cubs in that area. Unfortunately he killed one cub of Budbudi female to mate her so the female had to leave that area to save her cubs.
Kisli zone on the other hand, also improved on the sightings. The beginning of the season was not good in Kisli. But there was a dramatic change towards the end of the season and tigers were sighted everywhere in that small zone. Bheema was a frequent flyer till Chimta camp from Mukki to Kisli just like last season.
Munna the legend of Kanha National Park
The leading star of zone was again Munna, most beloved tiger of the park who never disappointed any tourist. But he is aging now, one could see the broken canine and wrinkles on his body. He is 14-15 yrs old, which is old age for a wild tiger to survive in the wild. Munna was sighted in, Digdola, Silyari, Saunf, Ronda and Bandri Behra area. By the end of the season, he moved towards Kisli talab area near Kisli gate as Bandribehra male (son of jamun talab female) started visiting silyari area. Munna avoided any interactions with him at this age. Karaighati male another aggressive male of this zone covers till magar nallah. Supkhar male was also sighted in kisli talab area so it would be difficult for Munna to sustain in Kisli as there are too many Tiger in a small area.
But this iconic male has ruled every inch of park (mukki-kanha-sarhi-kisli) and has been a celebrity in past years, one of the boldest tiger anyone has seen with CAT written on his forehead. This magnificent male has left his legacy behind and he will be remembered as an iconic Tiger of Kanha.
Kankatta, another warrior of Kanha was seen two to three times this season but after February he vanished from the park and was never sighted again. In his absence new tigers like Supkhar male and Bandribehra male had a chance to take over his territory. Budbudi female's previous litter dispersed and spread out, one of her male cub's was sighted in Kanha meadow too.
Next season in Kanha National Park
Next season in Kanha National Park is expected to rock again as many Tigresses are with cubs in all zones. Mukki would hopefully be the pick of all zones due to four males and three females with cubs. Kanha zone wouldn't be far behind as Link 7 female has four male cubs. Kisli zone would be attraction of the park and new males will try to take it over in absence of Munna and Kankata!