Nandhaur Wildlife Sanctuary is a hidden jewel over shadowed by it's elder cousin #Corbett National Park. A part of #Terai #Arc #Landscape this park is as easy to reach as Corbett. Best approached from Haldwani or even Ramnagar.
We reached the #Kadapani gate, and started inward journey into Nandhaur. T he opening feelers were not good, rather far from good. When you see extensive mining of sand and river stones in the Terai plains, it is not a pleasing sight to the eyes. But after about 5 kms into the drive my perceptions began to change. The Jungle seemed to be taking over. A typical sal forest, with serenity of a paradise. Nandhaur has some Khattas (transitory villages) on one side of the forest. So one thinks that this would be a forest disturbed by humans.
At Jaulasal Forest Rest House, in Nandhaur
About 18kms into the drive, we reached the staff quarters of #Jaulasal. We mistook the staff houses to be the Forest Rest House. We were disappointed not to find any staff in the premises. But then I heard a motorcycle rumble by to us, and the guard said, that they were waiting for us at the #Forest #Rest #House upstairs. We drove up about 200 meters and what awaited us was a breathtaking sight. A beautiful hamlet tucked away on a hilltop facing the Shivaliks, and the Nandhaur Valley below. The location, the design, and the concept of the British Raj theme it is a paradise on Earth.
This rest house was made in 1923 by the British, and has been recently renovated. The view was so heavenly that I did not enter the FRH for a long time. But once I did, even that was spellbinding. These Forest Rest houses made by Britishers over 100 years ago are mostly of 2 bedrooms, with a common living room, and attached bathrooms. The second bedroom is for your assistant, servant or a driver. We carried some food raw materials, and handed over to the guard. He briefed us that there is no electricity here, only solar lights which last few hours only. Well, who needs electricity in a paradise. The outdoor was so stunning, that we made ourselves comfortable on the chairs in the verandah overlooking the Shivaliks. For a typical city dweller this is the perfect recipe for peace.
Safari in Nandaur
Our morning began at 6 a.m. with a hot cup of tea, and we impatiently got into the vehicle for our safari into this unexplored heaven on earth. We were about to begin our safari when I heard some alarm calls of the Indian Pea Fowl. This further increased my anxiety. It seemed to me that the denizens of Nandhaur were calling out to me. Less than a kilometer and we crossed an almost dry bed of a seasonal river. What followed after that is a feeling of grudge against myself, as to why did I not visit this place before.
The forest guard who was accompanying us took us to some beautiful spots. The first one was #Shravan #Taal, a peaceful water hole waiting for animals to come and quench their thirst. But as it was only November so there was a lot of water in deeps of the Jungle and I was told that come summers this waterhole is in demand by the #herbivores.
Mahavriksh of Uttrakhand, Nandhaur
What ensued, was astonishing, for I had not seen a tree with a base circumference of over 80 feet, yes you read it right, 80 feet. A #Semal tree, over 150 years old, and if 15 people stood with hands stretched they would perhaps be able to cover it. The Guard, Mr Trilochan Bhist called this a "Mahavriksh", aptly so, and said that this is the largest tree of Uttrakhand. I had no doubts about it.
While sitting at this spot, the guard narrated a beautiful story. Guru Nanakji had visited Nandhaur once, and he stopped inside the forest on a hill top with his group of disciples. Being on the top of the hill, there was no water for the thirsty disciples. The great sage surmised a small lake known as Siddh Taal at that height. Till today that lake stays full. The circumference of the lake is about 750 meters. Depth is unknown, and it is said that #Siddh #Taal is the source of Nanak Sagar lake about 40kms from here. I was curious to visit the Siddh Taal, but was told that currently it is not accessible by a vehicle, a road is being made which should be ready in about one months time from now, and then it will only be a 3kms trek to the Holy Siddh Taal.
Meeting the guard who fought bare hand with the Sloth bear at Senapani Rest House in Nandhaur
We commenced our safari, and reached another beautiful Forest Rest House known as #Senapani #Forest Rest House. Here I met Prakash Singh Bhatt a Forest guard who had an encounter with a Sloth bear on his patrolling rounds. He fought the Sloth Bear with his bare hands. After the fight he was hospitalized for about 40 days. His wounds still not healed, and on being asked if he would go back again patrolling, he said sure, he would, once he recovers fully. I bow down to such Forest Guards who risk their lives to save our national heritage, the silent unsung heroes.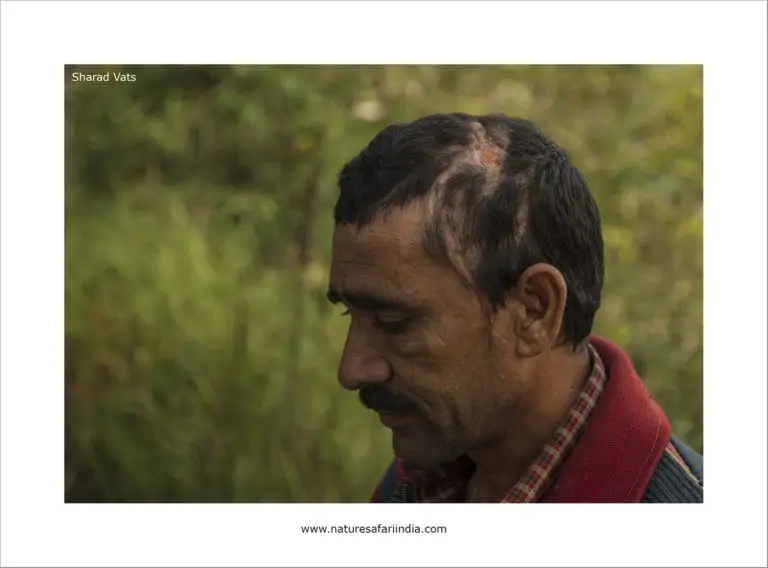 Totally inspired by his bravery, and dedication we moved back towards Jaulasal. En route the guard stopped and showed us #Khanilla tree. We were told that this tree is used extensively in the Ayurvedic medicines to cure many diseases. The unique thing about this tree was that on being very lightly scratched on its bark the tree would start shaking as if it was being tickled.
I was now getting anxious to discover more of the forest. Such wonderful information, and knowledge waiting to be gathered while we remain focused only on Tigers that too in some big parks.
Leopard in Nandhaur
Our journey back to Jaulasal began. After a brief while Lovnish braked, and said, "Spotted". My internal reaction was it's ok, we have seen #Spotted #Deers, he started to reverse, stopped and showed us a #Leopard sitting about 10 meters from us. The Leopard was so still that he could be noticed only when he moved. He obviously did not like being "Spotted", and went into the bush. We moved on a bit and stopped. It was just 2 minutes when the Leopard came out on the road, looked around and crossed the road. We all had smiles on our faces. I was consumed in seeing the Leopard in those beautiful surroundings that I totally forgot to click. Camera was in my hands, but I was just mesmerized by this beauty. On our return we saw some more pug marks of the Leopard on the dry river bed.
Nanak Sagar and Nanak Mattha, excursion from Nadhaur
We had lunch at Jaulasal rest house, and I asked our tracker, what next, he said, if we are keen we can go to Nanak Sagar and #Nanak #Mattha. Keen was an understatement, we jumped and before Deepak could realize we were sitting in the car. Drove for about 45 minutes, to reach #Nanak #Sagar. What unfolded was unbelievable. Sun was setting, cool wind was hitting us, a slight shiver, total silence, only sound was from the flock of egrets landing and taking off. And in front of our eyes, was an ocean. Reminded me of #Chuka in #Pilibhit #Tiger #reserve. Not as huge perhaps but what one saw in front was only water, and no shore.
We then went to Nanak Mattha, the Gurudwara, sat and listened to the Shabad for a while, before hitting the road back to Jaulasal.
Memorial of Mrs E A Smythies, near Jaulasal, Nandhaur
Next day morning it was time to check out. It was now that we were showed another milestone of Nandhaur. A spot where wife of Mr E A #Smythies had a fight with a Tiger with her bare hands in 1925, she died fighting the Tiger. This was another touching moment that became engraved in our memory. For records Mr E A Smythies was a forester and an expert on Ecology of Uttrakhand. He alongwith Jim Corbett had proposed for area around Ramnagar to be made a National Park. While we all remember Jim Corbett and have named a National Park after him, we have forgotten a renowned Forester who spend his life in the Jungles of Uttrakhand.
For those interested to know what does Nandhaur have, I must mention here that Nandhaur has over 25 Tigers as per last census, Elephants, and everything that a Terai forest can offer. Birdlife is very rich. What it lacked was some grasslands to attract the prey so that visitors can see them. Removal of the Khattas on the boundary will do only good to the sanctuary, and some more roads to explore Nandhuar, which apparently is already happening at a great speed. The Forest department is working hard, and I heard that a proposal has been sent to the Central Government for it to be made a Tiger Reserve.
Nandhaur you are very beautiful, and I am happy that hardly any tourists come and disturb your peace and beauty.
I will see you again and soon
Sharad Vats