Gir National Park is heaven to about 300 Asiatic lions. The Lion, Panther Leo, inhabits the forest of Gir in the Saurashtra peninsula, attracting sixty thousand visitors to this sanctuary of Gujarat every year. Gir today is the only place in the world, outside Africa, where the lion can be seen in its natural habitat. The Asiatic lion is slightly smaller than its African cousin; nevertheless, a large male lion of the Gir is quite a sight to behold. The best way to observe the big cats is, of course, in their natural surroundings, at dawn and dusk, when they are on the prowl.
Sasan Gir is the only place in the world outside the African continent where the lion can be seen in its natural habitat. It alone draws hordes of visitors to the park each year. Much of the Asiatic Lion's time is spent snoozing where the shade is deepest, while the lionesses do the stalking, hunting, and cub raising. But, when a kill is made, he is the first to come and claim his share.
Plan your tailor-made trip with our local expert
Travel stress-free with local assistance and 24/7 support
The Gir forest is also home to a large number of other fascinating species like the leopard, chital, Chinkara (gazelle), wild boar, wild ass, Nilgai, spotted deer, and four-horned antelope. It is also a good place to watch monkeys, parrots, and India's national bird, the peacock. A crocodile-rearing and research Centre also flourishes adjacent to Sinh Sadan Lodge, where hatchlings are reared and then released into their natural habitat.
Book your expedition to this National Park in India today!
Altitude: 150m – 530m above mean sea level
Vegetation: Very dry teak forest
Water Resources: The four reservoirs of the area are at four dams, one each on Hiran, Machhundri, Raval and Shingoda rivers, including the biggest reservoir in the area, the Kamleshwar Dam, dubbed 'the lifeline of Gir.
Core Area: 300 sq. km
Buffer Area: 850 sq. km.
Coordinates: 21.1243° N to 70.8242° E
Rainfall: 806mm
Temperature: 25.8 Degree Celcius.
Gir National Park Safari Tours
Photographic Safari Tours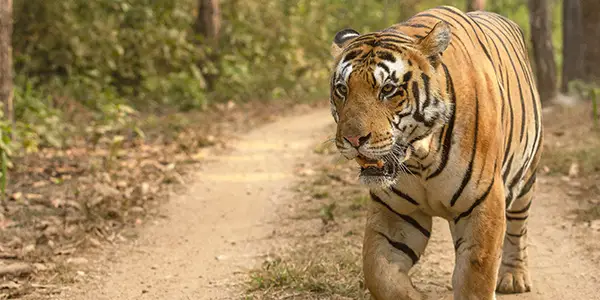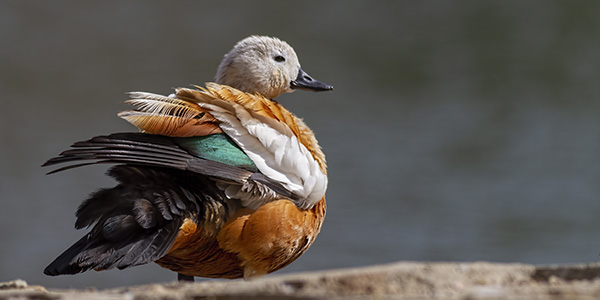 Popular Fauna at Bandhavgarh National Park
It is surviving today only in India. Since the turn of the 20th century, its range is restricted to Gir National Park and the surrounding areas in the Indian state of Gujarat. Historically, it inhabited much of Western Asia and the Middle East.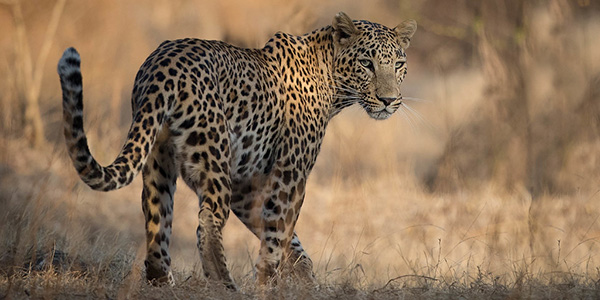 It has larger rosettes than the other subspecies, with a paler coat in desert habitats, greyer in colder climes and more ochre in rainforest habitats. They remain well-camouflaged at night but come down from trees to hunt during the day.
The golden jackal is the most northerly of jackal species, and also the most widely distributed. It overlaps biotopes only with the black-backed jackal in East African savannas. They prefer dry open country, arid short grasslands.
Safaris at Gir National Park
Gir National Park conducts half day jeep safaris. A half day jeep safaris can be further categorized as a morning safari and an evening safari. The morning safaris start around 0600 hours depending on the sunrise time and lasts for about 4.5-5 hours. After the morning safari, the guest heads back to the lodge/resort. You can freshen up, eat a quick lunch, relax for a bit and later head back in to the jungle for your evening safari. The evening safari lasts for about 3 – 3.5 hours depending on the time of sunset. Post your evening safari, you head back to the lodge for dinner and take the rest of the evening at leisure.
Our efforts have time and again been recognized by all our guests on TripAdvisor. With reviews that are 100% genuine, you can read them here or head on to our official TripAdvisor page to browse through in detail.
Tiger Safari with Sanjay Gupta and Nature Safari India.
We just finished the first half of two tiger safari tours in India. The first was on the Banhavgar National Park. Our guide was Sanjay Gupta, who had 25 years of experience in the park and with the tigers. He was wonderful, sharing his experience and knowledge throughout our three full days together. He was definitely a highlight of our trip, as a great guide makes for a great experience, whether you see tigers or not! And we did see tigers...
Excellent Experience with Nature Safari India.
Nature Safari India organized our private 2 Weeks Safari in Central India plus a couple of Sightseeing and we are very happy to having choose this agency. I found them on the responsible tiger tourism association (TOFTigers) and I liked them from the very first contact. From the first email more than two years ago to the end of our trip in April 2022, the service was great, the selection of the itinerary, Parks, lodges and guides was perfect...
Excellent Experience with Nature Safari India.
Deepkul and the Tiger Safari India team put together an incredible experience for us in Kanha and Bandhavgarh. All the details were taken care of as per our preferences and budget including transportation, food, lodging, and our amazing safari guides. Deepkul was easy to communicate with and always quick to respond to any questions before and during our trip. Highly recommend!