One can directly fly from New Delhi International Airport/Mumbai International Airport/Bangalore International Airport
In Peninsular India, primarily comprising of the Southern states of Andhra Pradesh, Maharashtra, Goa, Karnataka, Kerala & Tamil Nadu lie the Western Ghats – India's oldest mountain range and one of the most biogeographically rich places in the world which makes it one of the best places for birding in India. Its biomass goes toe to toe with that of the Amazon and species diversity is similar.
Demarcated by the Deccan plateau of Central India on its Northern Side, the habitat of the Western Ghats consists of Tropical Rainforests, Deciduous Forests, Shola Grasslands, Scrub Forests as well as Montane Forests.
Why are the Western Ghats and the Nilgiri Hills so important?
> It houses 3500 Plant species, of which 1500 species are endemic to the area.
> 75% of all Amphibians of India occur here.
> More than 50% of all Reptiles of India are found here.
> More than 300 species of Butterflies of India occur here.
> Over 100 species of Mammals.
> Almost 600 bird species of India out of which 28 species are endemic to the area.
> The altitude of the Western Ghats reaches up to 1600m above sea level.
Explore the richness of Western Ghats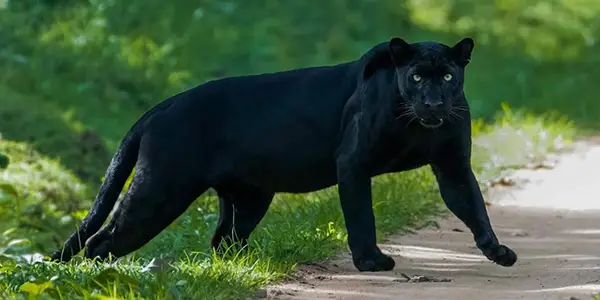 The Black Panther is on the wish list of anyone who's familiar with 'Bagheera' from the 'Jungle Book'. Having adopted the shadows, the melanistic leopard is one that eludes all…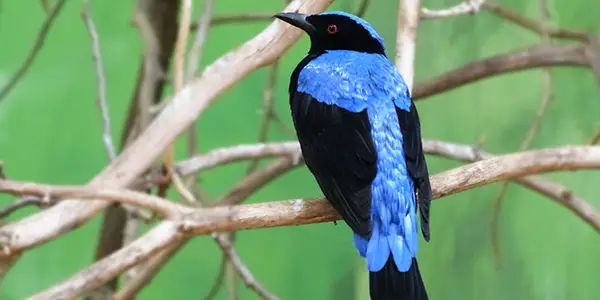 Etched along the western coast of the Indian Subcontinent, The Western Ghats is one of the most breathtaking landscapes in the world. It's a land gifted with undulating…
1. Cotigao Wildlife Sanctuary – Goa: An IBA (Important Bird Area), it is covered with Tropical Evergreen Forest, Semi-evergreen Forest & Moist Deciduous Forest. The habitat is hilly with several rivulets which occur in the Sanctuary. It is located in Southern Goa and is the 2nd largest wildlife sanctuary of Goa.
2. Nagarhole National Park – Karnataka: Probably the most visited National Parks of South India, Nagarhole National Park is part of the Nagarhole Tiger Reserve as well as a part of the larger Nilgiri Biosphere Reserve. These Moist and Dry Deciduous forests are home to large mammals such as the Indian Elephant, Gaur, Royal Bengal Tiger & Indian Wild Dogs.
More recently, people from all over the world flock here in the summer for photographing a rather bold male Melanistic or Black Leopard. Nagarhole is also an IBA – Important Bird Area and over 300 bird species are recorded here including some of the endemics of South India.
3. Ranganathittu Bird Sanctuary – Karnataka: Ranganathittu Bird Sanctuary is a reservoir comprising of 06 Islands and 06 islets on the banks of the river Cauvery. This catchment area has been created due to damming of the river. This has resulted in the creation of habitat for the birds which reside in the area as well as the migratory birds which find solace in winter with the relative abundance of food here.
The nearby agricultural areas also provide breeding grounds for insects to which the farmers allow a lending hand to the insectivorous birds of the area. It is an important birding location of Asia and is mooted to become a Ramsar Wetland as well. Championed by legendary ornithologist Dr.Salim Ali with over 220 bird species recorded, and multiple waterbirds nesting here – Ranganathittu is a must-visit birding site in India.
4. Thattekad / Salim Ali Bird Sanctuary – Kerala: These fragmented Southern Indian Moist Deciduous and Tropical Evergreen Forests of the Western Ghats close to sea level, are rich in biodiversity and the Sanctuary is one of the best places for birding in India. It is bordered by the Periyar River on the Southwestern side and its tributary the Pooyamkutty river on its northern front. Within the confines, rich ecological diversity exists, and treasures waiting to be seen enthrall you.
5. Erivakulum National Park – Munnar, Kerala: Nestled at 2000m above sea-level in the Western Ghats mountains, is Erivakulum National Park – covered in the remaining high elevation Shola grasslands interspersed amongst the Montane forests of South India. Over 200 species of birds exist here with interesting butterflies, mammals, amphibians as well as reptiles. A famous tourist spot in Munnar, and there are chances of an influx of people at times as well. However, the entire landscape is rather forested with several large tea-estates, hence birding can be done almost anywhere in the area.
6. Valparai – Tamil Nadu: An absorbing view of gentle green hills, low-hanging clouds and a silence broken by the echoing song of the Malabar Whistling Thrush, Valparai Plateau is one of the most beautiful travel spots in South India. The Anamalai hills are heavily fragmented with Tea and Coffee estates, yet the landscape teems with wildlife of all kinds. Gentle but beastly Gaur greets you in the tea-estates as you drive in and great birding hotspots can be located in and amongst these inhabited areas across Valparai.
The altitude ranges from 1200m to 2600m, and the forest type here is Moist Deciduous to Evergreen Forests. There are Shola forests visible from here at the higher reaches where elephants and tigers dwell.
7. Ooty, Kotagiri & Coonoor – Tamil Nadu: Ooty is known as the "Queen of Hills", nestled right in the Nilgiris. It is a rather popular tourist destination, however, the biodiversity hotspots are there to find and its birds galore in these Evergreen forests. Ooty and its nearby areas have a lot of birding to offer. Shola forests and grassland are to be seen but never touched as they remain strictly protected owing to their limited availability.
Located around 40km from Mudumalai National Park, the extensions of the Park are to be felt in this paradise. The highest peak is called Dodda Better which is situated at an altitude of 2600m from sea level. The Nilgiri Biosphere has around 3300 plant species of which 132 are endemic to the area, and 08 out of 175 orchid species are endemic as well.
Cotigao Wildlife Sanctuary
> Private vehicles are allowed inside the sanctuary, however, the trails in the forest are best explored on foot.
> It is not a very commercial park, hence good birding opportunities arise here with minimal disturbance to the wildlife.
> The main type of safari here is Jeep or Canter(minibus) safaris inside the National Park. This is conducted twice per day – in the morning & in the afternoon.
> Boat or Canoe safaris on the Kabini river are also possible – there are quite a few migratory waders, plovers, raptors and storks which are seen. Elephants are seen in huge herds by the river with the other herbivores.
Ranganathittu Bird Sanctuary
> The sanctuary conducts safaris through boats which can be hired at the location itself. You may choose to share a trip with fellow patrons or hire a boat privately with a guide who accompanies you.
> Safaris here are on walking trails only. The terrain is quite flat, with the occasional venture into the river beds.
> Safaris here are on walking trails only. Inside Erivakulum National Park, closed buses take you to the tourism zones where you can pursue a walking trail.
> Safaris here are on walking trails only on an informal basis wherever forest patches arise. Private vehicles are used to get around the area.
Ooty, Kotagiri and Conoor
> Safaris here are on walking trails only on an informal basis wherever forest patches arise. Private vehicles are used to get around the area.
Accommodations at Western Ghats
Niraamaya retreats Cardamom Club
Niraamaya Retreats Cardamom Club is a remote hideaway nestled in a cardamom plantation that offers both adrenaline-fueled adventure and a peaceful retreat. Perched amidst 9 acres of cardamom plantations, verdant groves and lush foliage, our cottage retreat exudes intensely private vibes.
A cradle of affordable luxury coloured by the local landscape, KAAV Safari Lodge in Kabini offers the jungle getaway of lifetime, every time. They are poised to bring you untamed luxury at its very best. The locale that has come to be termed as Kabini sits on the banks of its eponymous reservoir whose river winds its way from Wayanad in Kerala to join the Kaveri in Karnataka.
While you are cradled in the lap of luxury, the resort gives you a wildlife experience like no other, and enjoins you to be part of the vibrant social tapestry of the local Kadu Kuruba tribe. Steeped in local culture, and inspired in design by the Hadis (tribal villages), this picturesque resort is bordered on two sides by Kabini River.
Related Birding Destinations in India
Our efforts have time and again been recognized by all our guests on TripAdvisor. With reviews that are 100% genuine, you can read them here or head on to our official TripAdvisor page to browse through in detail.
Tiger Safari with Sanjay Gupta and Nature Safari India.
We just finished the first half of two tiger safari tours in India. The first was on the Banhavgar National Park. Our guide was Sanjay Gupta, who had 25 years of experience in the park and with the tigers. He was wonderful, sharing his experience and knowledge throughout our three full days together. He was definitely a highlight of our trip, as a great guide makes for a great experience, whether you see tigers or not! And we did see tigers...
Excellent Experience with Nature Safari India.
Nature Safari India organized our private 2 Weeks Safari in Central India plus a couple of Sightseeing and we are very happy to having choose this agency. I found them on the responsible tiger tourism association (TOFTigers) and I liked them from the very first contact. From the first email more than two years ago to the end of our trip in April 2022, the service was great, the selection of the itinerary, Parks, lodges and guides was perfect...
Excellent Experience with Nature Safari India.
Deepkul and the Tiger Safari India team put together an incredible experience for us in Kanha and Bandhavgarh. All the details were taken care of as per our preferences and budget including transportation, food, lodging, and our amazing safari guides. Deepkul was easy to communicate with and always quick to respond to any questions before and during our trip. Highly recommend!